Video game Christmas is here, which means it's time for all sorts of news, trailers, and marketing gaffes. Plus: fake video game footage! Let's break it all down.
For the most convenient look at the full schedule, here's Twitter user Cheesemeister2k with a detailed list:
Shall we go conference by conference?
EA - Sunday, June 12 - 4pm ET
Although Electronic Arts has bailed from E3 this year and will instead be doing their own thing, it's likely their press conference will resemble the ones we've seen them do in the past. That means news on Mass Effect: Andromeda, footage from Battlefield One, a big block for sports games, and maybe some other surprises. Smart money would be on a tease for BioWare's new IP or maybe Visceral's Star Wars game.
G/O Media may get a commission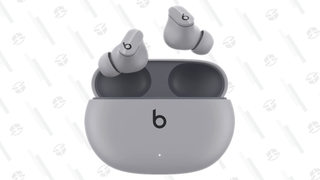 Bethesda - Sunday, June 12 - 10pm ET
Last year's Bethesda showcase was pretty impressive, so look for them to aim high again in 2016. Some of the stuff I'd expect to see: Dishonored 2, Doom DLC, Fallout 4 DLC, Arkane Austin's Prey 2 (or whatever it's called now), a Skyrim remaster with console mod support, and maybe new games from the studios behind Wolfenstein and The Evil Within.
Microsoft - Monday, June 13 - 12:30pm ET
The folks behind Xbox are on an interesting mission: to unify Xbox and Windows 10. Don't be surprised to see that cross-platform initiative as one of their main focuses on Monday morning. They've got a lot of games to talk about, including Scalebound, Crackdown 3, Gears of War 4, and the recently leaked Dead Rising 4. Expect to see all of them announced for both Xbox and PC. Will we see their upgraded Xbox, code-named Scorpio, at E3 this year? Anyone's guess.
Ubisoft - Monday, June 13 - 4pm ET
This will be the first Ubisoft press conference in a very long time with no Assassin's Creed, but we will see new Watch Dogs, South Park, and Ghost Recon. Ubisoft will also likely show off some of their new IPs like For Honor and an unannounced game that they've said is multiplayer-focused. Maybe they've got some other surprises too.
Sony - Monday, June 13 - 9pm ET
We're looking forward to new looks at Horizon and Detroit at Sony's conference this year, plus reveals of God of War 4 and whatever Sony Bend is working on (rumored to be an open-world game called Dead Don't Ride). There'll likely be a whole lot of VR and maybe a look at the PS4.5, aka Neo, although we still don't know when that's actually coming out. (UPDATE (6/12): Since the publication of this post, Sony has said that Neo will not be at E3.) Will we see some other big surprises along the lines of last year's FFVII Remake? Maybe! One thing we can say for sure: It'll start late. Sony always does.
Nintendo Treehouse Live - Tuesday, June 14 - 12pm ET
This one's an enigma. Nintendo says Zelda will be the main focus at E3, but do they have any other surprises up their sleeve? Is it too much to hope for a surprise Mother 3 release? They'll be streaming Treehouse gameplay all throughout Tuesday and Wednesday, but as of now it doesn't seem like they've got any sort of Direct or other scripted presentation planned.