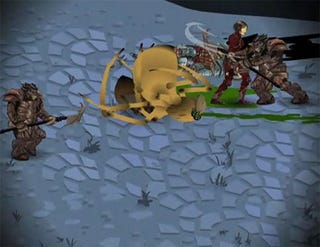 EA 2D sets the stage for Dragon Age: Origins today, with the launch of the first chapter of Dragon Age Journeys, the 2-dimensional browser-based tie-in to BioWare's blockbuster RPG.
At least the press release says the first of three Dragon Age Journeys chapters launches today. As of this writing the website is still only hosting the preview video for the game, but I have faith in the power of the press release. The game sees the player exploring the underground dwarven kingdom of Orzammar, taking down enemies in what the release calls "intense tactical combat." Like Dragon Age: Origins, players will choose one of six origin stories that shape the way the game's story plays out.
"Dragon Age Journeys sets the stage for Dragon Age: Origins," said Mark Darrah, Executive Producer, Dragon Age: Origins. "The team has shown the Dragon Age Franchise in a bold new light and the release of this game allows a broad audience of players to discover our dark fantasy universe for the first time."
Hopefully the whole not actually being live issue will clear up as the day progresses. For now, you've got something to refresh your browser over, and that's always exciting.