It's hard to recognize a tipping-point until it's come and gone. This year, like every other year since 2011 or 2012, esports are poised to break through into the mainstream. But with companies like Turner set to broadcast a Counter-Strike league on TBS (the unfortunately-named ELEAGUE), and ESPN getting into esports coverage, esports have already grown way beyond the niche-hobby they were for the past 20 years. It's time for the hard part: figuring out what esports will look like when it's not just running on #passion.

The hallmark of any successful revolution is the infighting that inevitably follows, and there's no reason to think esports will be any different. With more sponsorship money flowing into esports and the possibility of TV (!) deals, people who were united in their enthusiasm and sacrifice for the good of esports may find that their interests aren't as aligned as they used to be. In fact, they might actually be opposed.
Every week there are more signs of how big esports is getting and how high the stakes have become. Activision buys Major League Gaming. Microsoft teams up with the X Games for Halo. Blizzard puts $4 million behind the new season of Heroes of the Storm. Riot begins another season of League of Legends while consolidating its control over broadcasts in Korea. In the space of a year, Dota 2 players become the highest-earning pro gamers in history, and millionaires as well. For everyone involved, from teams to players to event organizers, there is both more to gain, and more to lose.
Teams vs. Developers
Riot's administration of the League of Legends League Championship Series is an interesting potential tinderbox of conflict between the game studios that control the leagues around their games and the teams that play in those leagues .
G/O Media may get a commission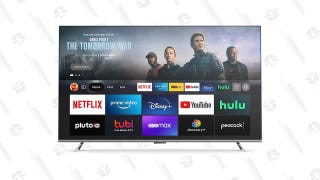 Save 46%
Fire TV 55" Omni Series 4K UHD Smart TV
Riot controls every aspect of professional League of Legends. This isn't like traditional sports where you have agreements in place between various stakeholders that govern a lot of the incidents that might arise. Riot is the final arbiter of what's fair and right in their leagues.With the LCS, where all the baseline salaries are guaranteed by Riot and the league is under their control, Riot's word is law.
Sometimes, that law can feel a little arbitrary, like when Riot banned a team owner for "tampering" with another team's roster, just as his team was about to advance into the LCS from the lower-level Challenger Series. Tampering is a charge that comes up a lot in the LCS, and sometimes even Riot's own personnel run afoul of Riot's (apparently rather broad) rules regarding contract negotiations.
Photo of Konstantinos "FORG1VEN" Tzortziou at IEM Cologne, by Helena Kristiansson, for ESL. Source
Or there is the case of when Riot handed-down a suspension for toxic behavior to the Gambit team's star player while they were in the midst of a playoff race last year.
The point here isn't that Riot were wrong to suspend a player for being a scumbag during online play, or that their rules about tampering are misguided. It's that Riot is able to make these decisions without having to take into account the various interests of players and ownership. It's not unique to Riot. Valve just permanently banned Counter-Strike players involved in last year's match-fixing scandal from competing in Valve-sponsored events, which effectively ended their careers.
Maybe these were the right moves for these competitive scenes. Maybe they weren't. But as the stakes surrounding esports teams and careers get higher, the days when developers and publishers can rule by fiat may be ending. It's one thing to push around a kid named "swag". It's another to do the same thing to the kind of monied investors behind a team like Immortals in LCS.
Event Organizers vs. Teams
There was an interesting, well-founded rumor that went around the Counter-Strike community last year that several different organizations (teams, sponsors, and event organizers) were in talks to strike an exclusivity agreement around a number of top CS:GO teams. The talks ultimately went nowhere, but they pointed to an exciting (and slightly worrying) future where Counter-Strike might function a bit more like traditional sports leagues. Top teams and their players might only compete in one organizer or broadcaster's events. Other organizers would be forced to run events with b-list teams and steadily lose market share to the "real" professional league.
We probably haven't heard the last of this idea. Right now Counter-Strike is enjoying tremendous growth, and there is a major tournament almost every other week. The problem is that the major teams are increasingly over-scheduled while they play for relatively fixed stakes. There is an obvious incentive for teams and organizers to strike some kind of deal that increases the value of both sides' participation in Counter-Strike tournaments.
In fact, the odds of something like this happening have actually increased thanks to consolidation within esports media. In the past year, Swedish company MTG acquired both DreamHack and ESL, two major tournament organizers who were once at least nominally competitors. ESL had previously acquired another major organizer in North America, giving them a large foothold in that scene as well. All of that now belongs to MTG, which gives them unprecedented power in esports. As the market for games like Counter-Strike grows in value, look for MTG to try and ensure its various properties don't compete with each other and oversaturate the market.
Moving Forward
These are some of the big trends I'm going to covering here at Kotaku as the esports "season" gets rolling, in addition to the games and leagues themselves. I've been covering esports off-and-on for about four years, which means that I'm finally starting to understand them. I find them fascinating because esports ties together so many different things. They're a new cultural phenomenon. They are a sports story. And they are a video game story.
They're also a lot of fun. I became a convert to esports after I watched my first StarCraft 2 tournament, and since then I've slowly gotten pulled into League of Legends, Counter-Strike, and Dota 2 (for at least a month out of every year). My goal here at Kotaku is, a few times every week, to convince everyone that StarCraft 2 is the best esport share some of my favorites stories and moments from tournaments every week, without losing sight of the broader context around them.
Rob Zacny is a freelance writer and esports journalist. You can reach him at zacnyr@gmail.com
Top Photo: The main stage at ESL One by Helena Kristiansson, for ESL. Source