In many ways, Geisha Monroe and Mandy Morbid are typical Twitch streamers—they're gamers who share their play experiences with an online following. They cosplay, they collect game-related memorabilia, they tweet Overwatch memes. And like most streamers, Twitch isn't their job. But what does pay their bills makes them unusual among Twitch streamers: they're cam performers.

If you don't know much about camming, the concept is similar to streaming on Twitch—only instead of playing a game, the performer, usually a woman, gets naked. But like streaming, camming is also about much more than that. Fans tune in because they want to interact with and support performers, just like they would for their favorite Twitch streamers.

Despite the constant cries of 'camwhore' and 'fake gamer girls' that follow women streamers, performers like Monroe and Morbid stream on Twitch for the same range of reasons that everyone else does. I spoke with them about how streaming and camming are similar, how they diverge, and what platforms like Twitch can learn from the history of cam sites.
Camming vs. Streaming: What's Similar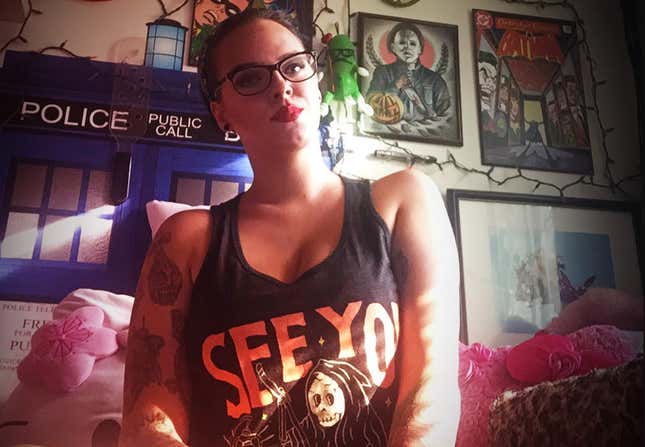 Camming has been around since webcams existed, much longer than the concept of streaming games — MyFreeCams, one of the largest cam sites currently in operation, was launched in 2002. Twitch's predecessor, Justin.tv, didn't launch until 2007. And since those early days, platforms have sprung up to streamline the setup, viewing, and payment processes on camming sites, making things easier for both performers and audiences in exchange for a cut of all transactions.
Putting aside the specifics of the performance involved, it's hard to distinguish between the two jobs. They're both forms of online labor based around cultivating and monetizing a personal following. The platform itself is owned by someone else, and that proprietor makes money off ads and transaction cuts. Twitch and cam sites are only becoming more similar over time.
For instance, MyFreeCams uses a token system. Users buy tokens in advance and can then award them to performers as tips in public chats, or spend them on public or private shows. The price of tokens varies from around 8 to 10 cents, and performers receive 5 cents per token earned. Earlier this year, Twitch rolled out the Affiliate Program, which presents a large proportion of streamers with an in-platform way to monetize their channels. Under the new system, viewers buy "Bits" from Twitch, then use them to "Cheer" a streamer. The cheered streamer gets one cent per bit, which cost about 1.3 cents to buy from the platform.

By putting an in-house tip system within the reach of a larger number of users, Twitch has laid the groundwork for more streamers—not just Twitch partners—to monetize their performance. Doing so typically requires keeping a regular schedule, building up a distinct persona, and keeping in touch with fans, all of which are old and familiar strategies for being a successful cam performer, too.

Morbid says she feels a pressure to be entertaining while streaming on Twitch similar to what she experiences while camming. She gets anxious before going on stream, just like she does before going on cam, and feels she has to establish a rapport with the people in the chat, regardless of the platform.
Monroe currently receive tips from her streaming outside of the bits system but says that she doesn't make much from it. As a result she doesn't consider it work in the same way as camming, and treats it mostly as a leisure activity. "If my viewers want to come and hang out while I stream," she says, "they know it's just for a good time and I don't expect anything from them but their company." Morbid doesn't currently monetize her stream but her viewers frequently suggest she does, and she hopes to be partnered with Twitch someday.
...And What's Different
In Monroe's estimation, most of her Twitch followers come from the audience she built while camming. While streaming, her audiences tend to be less focused on her and more on the game, and she deals with fewer trolls—but this may be in part because she alters her appearance between the two activities. She tends to keep her Twitch streaming attire to "nerdy t-shirts or tank tops" that avoid showing off too much cleavage, with minimal makeup. This contrasts with the more risqué outfits and darker makeup she wears while camming.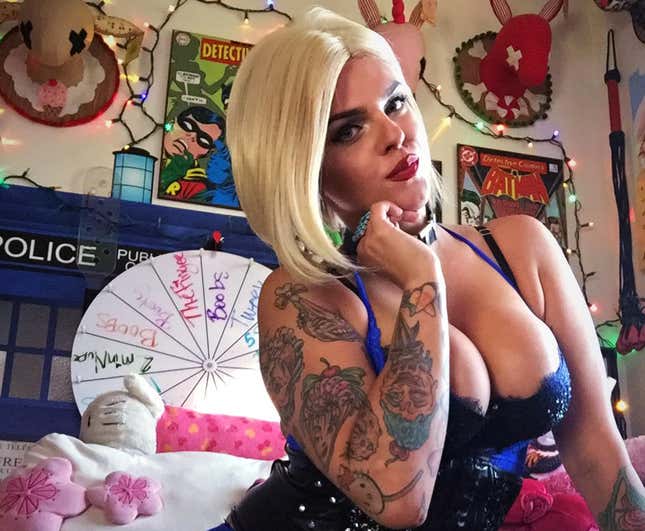 Morbid occasionally has to remind her Twitch stream viewers that she's not there to discuss her occupation and that she won't tolerate anything too vulgar in the chat. She feels the social situation of streaming is a little more well-defined, so that viewers are more interactive. Here she suggests there's a sense of "not knowing what to say to a naked girl" in cam chats, creating a dynamic where some viewers want to watch without interacting in any way.
How Twitch Can Improve
Monroe feels that cam sites typically have a better sense of what the performer wants in terms of payouts, customer service, and reliability, and that they're better at ensuring audience accountability. As an example, she cites receiving false PayPal payments from Twitch viewers which she was not covered for. Camming sites generally act as intermediaries for all transactions and have strict rules for refunds, meaning that chargebacks – in which viewers send money then request it back — are uncommon. Twitch, meanwhile, has had an ongoing problem with the chargeback phenomenon. Twitch's rollout of the affiliate system brings it in line with cam sites by acting as an intermediary, and reducing the potential for this kind of activity—with the added bonus for Twitch of getting transaction fees that would otherwise go to PayPal.

Monroe also argues that cam sites' content rules are less open to interpretation. For instance, MyFreeCams disallows cam performers from depicting fisting and lactation, with most violations constituting immediate bans from the platform. This is fairly common for sites that deal in pornographic content and are concerned about the legality of what they're hosting. Conversely, Monroe says Twitch can declare something pornographic without proof of even mild explicitness, leading to confusing bans.

Twitch's Community Guidelines state that "Nudity and conduct involving overtly sexual behavior and/or attire are prohibited," a statement much less clear than MyFreeCams' banning of specific acts. For instance, Zoie Burgher was banned from Twitch last year for sexually explicit content, even after she says she stopped streaming in a bikini. Monroe herself once had a temporary ban placed on her account because her attire was considered "pornographic," prompting her to think more carefully about her presentation while streaming. The question of what kind of content is allowed on Twitch has been a contested one for game developers as well, with developers like Robert Yang often finding their work summarily banned from the platform.
What Constitutes Work?
Despite the stigma directed at sex workers, Morbid feels that camming is more accepted than streaming as 'real work', maybe because there's an offline analogue–you're a "digital stripper", as she puts it. Streaming is a newer practice and doesn't have the same kind of equivalent. The idea of playing games while other people watch, much less making money from it, is still a very strange idea for some.
Of course, camming is hardly considered legitimate work by everyone, especially when the idea of women getting paid in part for their sex appeal still enrages some people. To fully explore the deep and complex phenomenon of whore shaming is beyond the scope of this article, but suffice it to say that women are not generally making "easy money" streaming, all sex work involves a significant amount of behind-the-scenes labor, and societal ire seems to be the strongest when women decide to directly profit from patriarchal imperatives about appearance and sexuality.

In this light, it's easier to understand the arguments around what constitutes "legitimate work" that perennially circle both camming and streaming. It's also why the most effective arguments against the notion of "camwhores" are those that refuse to divide women into "legitimate" and "illegitimate" streamers or workers. The experiences of people who both stream and cam makes a case for even broader allegiances, not just between all streamers regardless of their style, but between streamers and sex workers like cam performers. The arguments many streamers face regarding whether their work is "real" echo those that cam performers have been dealing with for years.

Increasingly, both camming and streaming involve participating in a closed digital workplace in which performers conform to the platform's rules and norms or else risk ejection. This can have benefits for workers—for instance, removing some of the vulnerabilities that come from directly engaging in transactions with viewers—but puts performers at the mercy of the platform. As long as Twitch's Community Guidelines remain nonspecific, this places some women streamers, whose bodies are seen as inherently sexual, in a precarious position.

merritt k hosts the podcasts Woodland Secrets and dadfeelings, and can be found on Twitter at @merrittk.