With Legend of Zelda Amiibo figures perpetually sold out and fetching prohibitively high prices on eBay, many fans are turning to bootlegged "Amiibo cards" instead. Many sellers of these cards see themselves not as mere pirates, but as modern-day Robin Hoods, providing fans with the in-game content that Nintendo won't sell them.
One seller from Etsy, a baker from South Wales who asked not to be named, says he started selling bootlegs in response to the rising prices of Nintendo's figures.

"I refused to pay scalper prices," he said. "It's not fair; Nintendo needs to produce more stock otherwise people will seek other options."

Amiibo are electronic toy figurines sold by Nintendo that can communicate with games for Wii U, 3DS, and now Switch. While they have plenty of appeal for collectors looking to line a shelf with colorful video game statues, they also have embedded near-field communication, or NFC, chips that allow players to access unique in-game content

This year, Nintendo released a line of Breath of the Wild Amiibo that give players extra items or features in the new Zelda game. But even older Amiibo figures give out bonus items in the new game. If you have a Toon Link figure, you can unlock his trademark cel-shaded tunic. The Princess Zelda Amiibo from the Smash Bros. line unlocks a powerful light-arrow weapon.

When Nintendo first launched Amiibo in 2014 alongside Super Smash Bros., the characters were printed in extremely low numbers and quickly became scarce, with some reaching highs of hundreds of dollars each on eBay. Last year, Nintendo upped the production quantities and brought supply into balance with demand, but that all changed with the hugely successful launch of Breath of the Wild. All Zelda-related figures are now sold out, even on Nintendo's official online store, leaving a vast and profitable market on sites like eBay.

Consider the case of the Smash Bros. Link Amiibo. A once-common Amiibo of a classic character, it is now nowhere to be found on Nintendo's online store. Outlets like GameStop might offer to sell it for the MSRP of $12.99, but that's subject to availability. When The Legend of Zelda: Breath of the Wild came out, it was revealed the Amiibo could summon Link's iconic steed, Epona. As a result, the figure currently sells for $60 to $70 on Amazon. Slightly lower prices can occasionally be found on eBay. That's a lot to pay for one figure. Because of that, it's much cheaper to make your own. And pretty easy, too.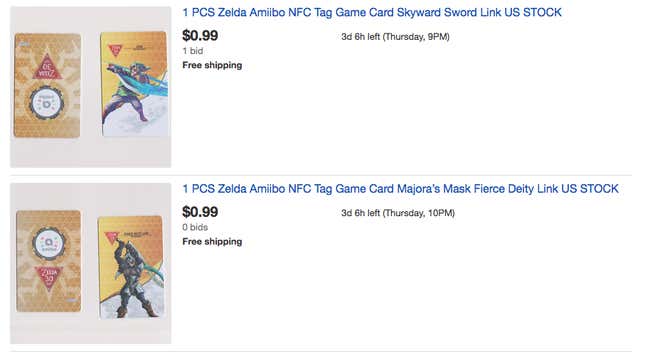 Making your own Amiibo doesn't mean sculpting a figurine. You can make a card that functions just like the toy with off-the-shelf parts. You can purchase a stacks of NFC cards at low cost on eBay. They're also not proprietary Nintendo technology, meaning that anyone can build an ersatz Amiibo with the right tools—which you may already have at home. Recent Android devices like Google's Nexus tablet or HTC smartphones can use applications to write data directly to NFC cards. TagMo is a popular app that comes preloaded with data for countless hard-to-find figures—even unreleased ones.

With demand high and supply almost nonexistent, a cottage industry has grown on sites like Etsy and eBay, where Amiibo cards are sold cheaply en masse. In researching this story, I purchased dozens of Amiibo cards to use with The Legend of Zelda: Breath of the Wild including one with data for the Fierce Deity Link Amiibo, which Nintendo has yet to release, for $50 total. They arrived in excellent condition, meticulously crafted and placed in protective card holders, and worked perfectly.
The Legend of Zelda: Breath of the Wild speedrunners often use Amiibo in their runs to gain items, summon boxes to launch into the air, or summon multiple copies of Epona for fast traveling around the spacious game world. Often, the items they use on stream are bootleg copies.

Orcastraw, a Breath of the Wild speedrunner, uses a piece of homebrew Wii U software to rewrite the data of Nintendo's official Animal Crossing cards to whatever she needs for her speedruns. "My speedruns spawn about 8 Epona and 32 boxes [from the Guardian Amiibo], so using cards helps save costs," Orcastraw said.

The software, created by a speedrunner and glitch hunter called dragonbane0, swaps the configuration data of any two Amiibo. Since it's a Wii U program, you don't even need a smartphone.
Like every other seller I spoke with, the South Wales Etsy merchant said he saw a strong spike in sales when The Legend of Zelda: Breath of the Wild released in March. Beginning by selling cards on eBay at £15 (about $20) each, the seller said he was about to purchase a Nintendo Switch and redecorate his bathroom with the profits.

Instead, he received a seven-day suspension from eBay, which claimed that the seller was in violation of its terms of service for selling materials that circumvented copyright. That's when he moved the business to Etsy.

Another seller, a veterinarian who also asked to remain anonymous, started selling online as a hobby after making some cards for some friends. Her initial listings sold quickly, although she began to wonder if what she was doing was okay.

"I actually reached out to [Nintendo] via email asking them what their stance on custom printed cards was and never got a response," the seller said. "I'm not trying to compete with Nintendo in any way," she said. "I'm attempting to give players a more economical way to get their Amiibo fix than paying $60 on eBay for a single figure."

Eventually, the seller got her answer in the form of a Digital Millennium Copyright Act notice from Nintendo, which noted that the Etsy listings contained "multiple violations of the exclusive rights holder...for the unauthorized copy/copies of Nintendo Amiibo products."

"These items contain copyrighted software by NOA and/or the unauthorized use of Nintendo trademarked artwork," the notice read, promising that no further legal action would be taken if the seller removed her listings within 24 hours. Otherwise, it said, Nintendo would seek "statutory damages of up to $150,000 per work for willful infringement." (Nintendo did not respond to Kotaku's request for comment on this story.)

In the words of sellers and buyers, the rise of bootlegged Amiibo cards is about scarcity, not piracy. With Nintendo unwilling or unable to produce enough figures to keep prices from skyrocketing, it creates an unfilled market opportunity for enterprising bootleggers. And the ease of creating Amiibo cards means that for every seller Nintendo swats down, ten more can pop up in their place. The only permanent solution to the problem would be to make Amiibo so prevalent in the marketplace that it wouldn't make economic sense to pirate them.

"No big deal. Fun while it lasted," said the veterinarian. "Hopefully Nintendo releases more of their older Amiibo figures for people that want them. Paying $60 for a SSB Link is just a little stupid."