Riding on a wave of WiiWare demos, word searchers, and puzzle games, this week's most intriguing downloadable offering comes from Flat Black Studios, the animation and software company behind the films Waking Life and A Scanner Darkly.
You might not know Flat Black Studios, but chances are you've seen their work, whether it be the two rotoscoped movie collaborations with director Richard Linklater, or the similarly rotoscoped television ads for brokerage company Charles Schwab. What do they have to do with the Nintendo Download?
Flat Black Studios has created a full-featured animation program for DSiWare called Inchworm Animation, available today for 500 DSi Points.
Inchworm Animation gives fledgling animators access to a ridiculous number of tools and options for creating flipbook and Flash animations. You can use the drawing tools to bring your own creations to life. Use the DSi camera to create stop-motion and time lapse clips. You can even create your own rotoscoped art by tracing over camera footage.
Check out Inchworm Animation's trailer to see what this inexpensive tool can do in the hands of amateur animators.
G/O Media may get a commission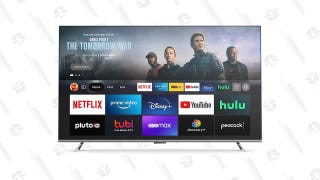 Save 46%
Fire TV 55" Omni Series 4K UHD Smart TV
As for the rest of this week's downloadables, see for yourself.
Nintendo DSiWare

Airport Mania: First Flight
Publisher: Lemon Games
Players: 1
ESRB Rating: E (Everyone)
Price: 200 Nintendo DSi Points
Description: Pack your bags for a trip through the skies in Airport Mania. Travel through eight amusing airports while you land a variety of planes, purchase upgrades and avoid delays. Stay on your toes, as some planes carry precious cargo and will need to land in a hurry, while others might need a trip to the repair shop. With good planning, you're sure to make it to the gate on time. With unique challenges and whimsical characters that will put a smile on your face, this is one flight you don't want to miss.

Inchworm Animation
Publisher: Flat Black Films
Players: 1
ESRB Rating: E (Everyone)
Price: 500 Nintendo DSi Points
Description: Inchworm Animation is a full-featured paint and animation system for the Nintendo DSi™ system. Five years in the making, Inchworm Animation lets you create mind-blowing digital paintings and animations in the palm of your hand. Use the Nintendo DSi Camera application to record video, stop-motion animation and time-lapse photography. Paint with transparency and smooth anti-aliased brushes. Create images up to 9,999-by-9,999 pixels. An easy-to-use pattern editor lets you make cool repeating patterns. Other tools include onion skin, six-level zoom, cut/paste/rotate, undo and shape primitives. Inchworm Animation's sophisticated layer system allows you to create structured animated scenes. Each layer can have its own independent frame loop. You can even draw on your animation as it plays. Comprehensive tutorials will show you the ropes. Export your finished masterpieces to an SD card (sold separately) as Flash or BMP image sequences.

Ubongo
Publisher: Korner Entertainment
Players: 1-2
ESRB Rating: E (Everyone) – Mild Language
Price: 500 Nintendo DSi Points
Description: Ubongo's mechanics are very simple. Just solve as many puzzles as you can and get gems of the same color. The player who has more gems when time runs out will be the winner. Game modes include History Mode, Quick Game, Time Attack and Multiplayer Mode. The original board game is a blockbuster in many countries.
---
WiiWare
Word Searcher Deluxe
Publisher: Digital Leisure Inc.
Players: 1-4
ESRB Rating: E (Everyone)
Price: 500 Wii Points
Description: You'll need a sharp eye and a quick mind to complete 100 themed word search puzzles. Word Searcher Deluxe contains fun words from multiple categories, including palindromes, pirates and painting. With a huge assortment of subjects to choose from, there are puzzles for everyone to enjoy. Test your vocabulary, memory and problem-solving skills with these challenging puzzles. Keep track of – and try to beat – your own play-through times again and again as words are scrambled every time you play.

Learning with the PooYoos: Episode 3 (demo version)
Publisher: Lexis Numérique
Players: 1
ESRB Rating: EC (Early Childhood)
Price: 0 Wii Points; full version available for 500 Wii Points
Description: Welcome to the first fun, poetic brain-trainer for children aged 3 to 6. With the PooYoos, a merry band of adorable baby animals, children will have fun while learning the basics for development, including numbers, letters, lateralization, shapes and colors. Children get to dance with their new friends and earn lovely interactive rewards. With two levels of interactivity, children of any age or level can play the activities based on plants and music. This game has been designed for use by children who have not yet grasped reading. The instructions are spoken in French, English or Spanish, depending on the language setting of your Wii console.