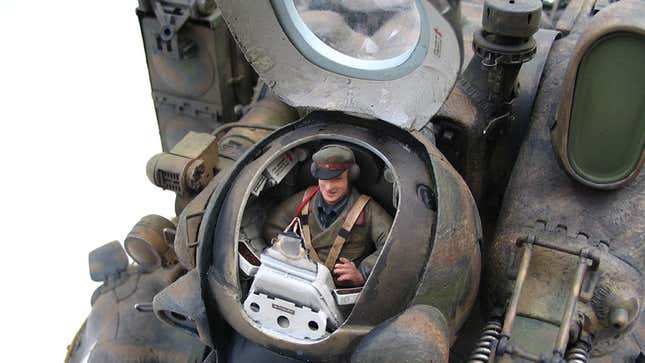 When indie multiplayer shooter Hawken burst onto the scene last year, people went bananas. They're still going bananas. But here's the thing: it's just a multiplayer shooter. Most of us haven't even played it. So why all the excitement?
In Dune: Spice Wars The Spice Must Flow But Remember To Hydrate
A lot of it is down to the game's art style, which for anyone who grew up in the 80s and 90s watching anime or reading manga will be right at home with. Decrepit megacities, combat mechs, it's the kind of badass stuff we sadly don't see as much of coming out of Japan these days.
What it really looks like, though, is something called Maschinen Krieger. Or Maschinen Krieger ZbV 3000. Or Ma.K ZBV3000. A dark and dirty sci-fi universe created by Kow Yokoyama, it's most popular with model builders (who create their own variations on the universe's aesthetic) and hardcore mech fetishists, though a few toys, books and even a short movie have been made as well.
"Kow Yokoyama is by far my biggest influence for our mech designs" Khang Le, the game's creative director, told me last year. "It's a niche design so I hope to bring his style to the Western market."
"It's a kitbash design sense that been around since the first Star Wars movie. Getting random parts of airplanes, ship models and just bashing them to create something strange and weird. These days you can do that in a 3D program and I just love that organic process."
So do we. And so do a lot of you. Those of you who do, but had never heard of Ma.K and had no idea what it was, enjoy the gallery below, featuring model kits and artwork that should keep you busy while we wait for Hawken's release. Those images that aren't official art came from the amazing Maschinen Krieger Flickr group, where you can see hundreds more that are just as great.
---