Tales From The Borderlands Could've Been Awful, But It's Great. Get it today for $18. [Tales From The Borderlands, $18, use code DECEMB-202014-GREENM]
---
If you held off on buying a PS4 during Black Friday, your patience has been rewarded with what is arguably the best bundle we've seen.
G/O Media may get a commission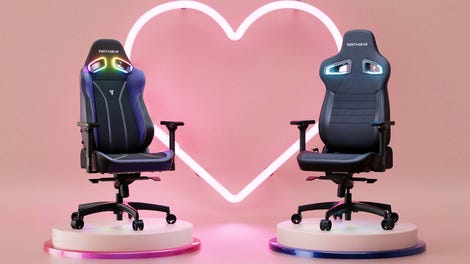 Up to $150 off
Vertagear Gaming Chairs
Today on Amazon, $440 gets you the console, a copy of The Last Of Us Remastered, a PlayStation 4 Camera, and your choice of either Far Cry 4, NBA 2K15, Destiny, or Little Big Planet 3. [PS4 + Last of Us + Camera + 1 Extra Game, $440]
If you want to spend a little less, you can also get the console with The Last of Us the same selection of games (no camera) for $400, or the console, a game, and a wired headset for the same price.
---
Metal Gear Solid V: Ground Zeroes' PC version gets a day one discount, down to $11. [Ground Zeroes, $11, use code DECEMB-202014-GREENM]
---
Vita Memory Cards are by far our most requested deal, so stock up. [ 16GB Vita Memory Card, $25]
---
Best Buy has Games of Thrones Season 4 with 5 exclusive covers available for preorder.
Q: Can you ensure the price listed at the time the pre-order is placed will remain the same?

A: ...For example, if you order an item for $49.99 and the pre-order price is later dropped to $39.99, you will be charged only $39.99. When you place a pre-order, you are assured our lowest pre-release price.
---
The must-own Cowboy Bebop Complete Series Blu-ray has dropped back down to its preorder price point. [Cowboy Bebop, $42]
---
This awesome Sons of Anarchy boxed set is at its lowest price ever today, and those who grab it "will receive an emailed coupon code for a credit to complete the collection with Sons of Anarchy: Season 7". [Sons of Anarchy, $100]
---
Cosmos, one of our most popular Blu-rays of the year, gets down to $20 today, a new price low. [Cosmos, $20]
---
Today on Amazon, three one of Anker's largest power packs are heavily discounted for the holidays. Anker makes some of the highest-rated batteries on the market, and several of them are actually among the most popular items we've ever listed, Lifehacker Hive Five winners, and in Lifehacker's Gift Guide, so buy with confidence.
Anker 2nd Gen Astro E5 16000mAh Portable Charger External Battery Power Bank ($30) | Amazon | Promo code ANKRPPE5
---
256GB/$95. #1 best-seller in SSDs. [ Crucial MX100 256GB SSD, $95]
---
As a happy MacBook Air user, I'm ashamed to admit that I have Microsoft's stupid Surface Pro 3 holiday jingle stuck in my head. If the ad blitz (or the positive reviews) has convinced you to try out Microsoft's hybrid device yourself, here's the best deal we've ever seen on it. - Shep
Amazon is taking $100 off the top on every configuration of the Surface Pro 3, from the 64GB Core i3 model ($799), all the way up to a 512GB rig with a Core i7 ($1,949). Plus, you'll get an extra $100 Amazon gift card with your purchase, which is the next best thing to pure cash.
Fun sidenote: Gizmodo's subsite Indefinitely Wild called it the best outdoor computer you can buy, if you like to be one with nature without fully disconnecting.
It's worth noting that these don't come with a Type Cover, but hey, you'll have some extra cash to buy it with now. [Amazon]
---
The #1 best-selling Lifehacker recommended American Red Cross Emergency Radio with smartphone charger is down to just $33 today only, its lowest price ever. [Emergency Radio, $33]
Further reading:
---
Anyone with even a passing interest in cooking knows that All-Clad is the most highly-regarded brand in kitchenware. In fact, if you poke your head behind the scenes of your favorite restaurants, chances are very good you'll see see their logo. If you're ready to level up your own cooking, several of their most popular items are on sale right now.
I own that 10" fry pan, and it's as good as advertised, but the 12" might make more sense if you frequently cook larger meals. I haven't tried the saucepans, stockpot, or the saucier pan, but they have ridiculous 4.8 star review averages, so suffice it to say, they should be good.
So what makes All-Clad so great? These pans all have a three-layer construction that wraps a fast-heating aluminum core around a layer of durable and heat-retaining stainless steel. Plus, all of their products are made in America, and come with a lifetime warranty. Yes, they're expensive up-front, but if you take good care of them, you'll never need to buy pans again.
Needless to say, these would all make terrific gifts for the foodie in your life. Or, you can treat yourself, and set a new year's resolution to improve your culinary chops. Either way, act fast. These deals probably won't last long.
---
You've found the Five Best Vacuums, now help us crown a winner.
---
If Google+ is your network of choice, we'll meet you there too. Just add us to your circles, and tell your friends to do the same.
---
Gaming
---
PC
PlayStation 4
Xbox One
PlayStation 3
Xbox 360
Vita
3DS
Toys
---
Media
---
Movies & TV
Books & Magazines
Apps
---
Tech
---
Storage
Power
Headphones
Home Theater
Computers & Accessories
PC Parts
Phones and Tablets
---
Inventory
---
Home
Kitchen
---
We work together with you to find the best products and the best deals on them, click here to learn more. We operate independently of Editorial and Advertising, and if you take advantage of an item we cover, we may get a small share of the sale. We want your feedback.