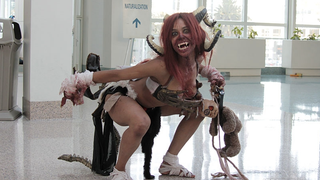 You're dead wrong if you think the West can't cosplay. It so can. And at the recent Anime Expo in Los Angeles, America did just that: cosplay.
Remember Matt Parson's 'Portalmon' mash-up design? For the next 48 hours, you can now buy it as a lovely t-shirt for €20 (plus modest shipping).
At the Cure Cosplay Festival, it wasn't only The King of Fighters that was brought to life. A variety of video games and anime outfits were on display.
The King of Fighters movie was rotten. But just because it stinks, that doesn't mean its Japanese distributor won't try to drum up publicity for it. Enter KoF cosplayers.
On March 11, a massive earthquake rocked Japan. Within minutes, a tsunami ravaged the country's northeast coast. Lives were destroyed, lives were lost.
Out of all of Capcom's fan service characters, Morrigan Aensland from Darkstalkers is one of the most fan servicey. So is this cosplay.