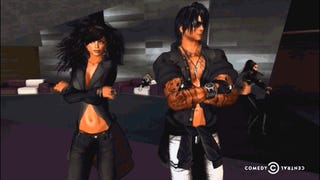 Last week, Jon Stewart tackled the absurdity of the NSA spying on World of Warcraft because there might be terrorists playing it or something. This week, The Colbert Report chimed in with a look at spying on Second Life—"a game for people who don't have a first one!"
iPhone enthusiast and The Colbert Report host Stephen Colbert gives a wag of his finger to Rovio's pig-smashing hit Angry Birds on Twitter. Pity Stephen's parakeet.
Not only did my face manage to make it's way onto the The Colbert Report last night, as I slept, but it did so as the voice of the Twittersphere.
Last night's episode of The Colbert Report featured a special shout-out the Xbox 360 during the Tip/Wag segment. I guess we should thank the Jonas Brothers for bringing it to Mr. Colbert's attention with their public support for the console.
Microsoft's Project Natal has been getting some of the best mainstream coverage to come out of E3, thanks to "Late Night with Jimmy Fallon" and, now, Stephen Colbert. He mocked the tech last night during his "Bears & Balls" schtick.
Click to view As if a stalky song by a glass-less, punky Colbert weren't creepy enough, the Harmonix folks created a bunch of Colbert avatars in Rock Band 2 to have them collectively serenade the likely still-traumatized Charlene. Hit the jump to watch the Colbert Collective sing the song.Click to view
Perhaps Neil Peart feels handicapped by a drum set with only five pieces or perhaps Alex Lifeson simply demands strings on his guitars. It's certainly not the smooth vocals stylings of Geddy Lee that cause prog rockers Rush to fail one third of the way through their own "Tom Sawyer" on Rock Band. Perhaps it's the…