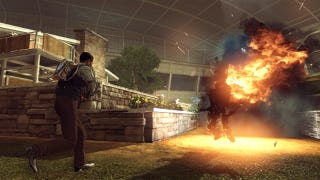 The Bureau: XCOM Declassified regroups on the Xbox 360 with its first new downloadable missions, which will be exclusive to that platform. In it, players will explore events before the extraterrestrial attack on Groom Range that kicked off the main game's story.
In an early mission of The Bureau: XCOM Declassified, a deer clattered across the pavement of a wrecked college town's main drag as I took my orders. It paused and looked at me, and I at it. Even before this invasion, that deer's world was under constant threat from death-dealing technology beyond its comprehension.…
If you've been watching the YouTube series attached to The Bureau: XCOM Declassified, you know that agent Ennis Cole is obsessed with hunting down the aliens among us for very personal reasons. Well, in this latest episode, he finally tracks one down. Then he probably wishes he hadn't.
So, I told you the kid would buy the farm. That seemed obvious in the first installment of the live-action YouTube series for The Bureau: XCOM Declassified. Then we found out it was Agent Cole's wife and boy. Since his life is one big country music song now, what do you think he's going to grab, the .38 or the…
The developers at 2K Marin working on The Bureau: XCOM Declassified say that they're going to be throwing serious challenge at you. And from what I played a few months ago, this 1962-set prequel to last year's hit release isn't the kind of game that you just coast through. Good thing this newest trailer covers some…
The folks over at Twitch have been streaming live gameplay demos from E3 all week. I know this, becuase every now and then over the course of the past few days I'd completely cut-off contact with my coworkers to enjoy a particularly compelling segment, like this one for The Bureau: XCOM Declassified.
For a brief few seconds while playing through a 30-minute slice of 2K Games' upcoming XCOM game, I thought I was in 2010. Now, you might say, 'waitaminnit, The Bureau's set in 1962, isn't it?' You'd be right. But, there's an unmistakable whiff of Mass Effect—specifically ME2, when the series became much more…
The XCOM we got last year wasn't supposed to be the one leading the rebirth of the beloved sci-fi strategy franchise. No, great as XCOM: Enemy Unknown was, it was a Johnny-come-lately. Back in 2010, there was another XCOM shown at E3, a game that re-imagined the humans-vs-aliens conflict as a first-person-shooter…