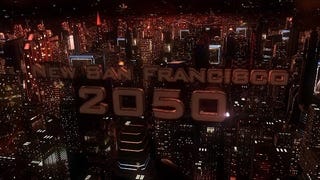 Is that you, Tex Murphy? It remains amazing to me that in this, the year of our lord 2014 AD, we are getting a new Tex Murphy game. But we are, thanks largely to the magic of Kickstarter. Tesla Effect: A Tex Murphy Adventure launches on April 22 on Steam and GoG, and I will play the heck out of it. Here's a new launch…
Hokey PC adventure series Tex Murphy is coming back with Tesla Effect: A Tex Murphy Adventure (its Kickstarter having hit its mark), and it's celebrating with this trailer that is, well, a triumph. Of corn.
It's been over a year since we first covered the Tex Murphy reboot, and today, we finally get our first proper trailer for the successful Kickstarter project.
DRM-free classic PC game store GOG.com is rolling out deals for the holiday season, with up to 40% off 171 titles, including Duke Nukem 3D, Freespace 2, Fallout, and Beyond Good & Evil, with free Tex Murphy for everyone.