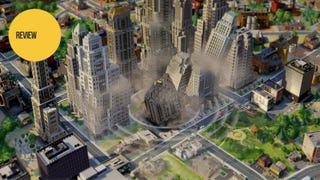 To many fans of the original city building simulation series, the idea of an online multiplayer game that required even solo players to be connected to the internet at all times seemed like a recipe for disaster. Maxis' latest creation is easily the most compelling SimCity I've played since the 1989 original. Update: …
The latest iteration of the world's oldest and most-beloved city building game has arrived, incorporating strong social elements and cutting-edge technology to drag the franchise kicking-and-screaming into the modern age. I hear some people can actually play it.
Keyboards plugged in? Mouses at the ready? Cool. We're about to hit the launch of another big-deal PC game: Maxis' SimCity, back from a long hiatus and looking pretty good.
Sure, it was leaked all over the internet last week, but tonight at the Game Developers Conference, EA has made it official: SimCity is back.