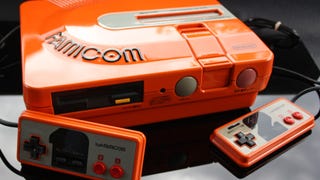 The Twin Famicom is an interesting game console. Produced by Sharp, it was Nintendo's Famicom console and Disk System melded into a single console. While it looked nice enough, there is a way to make it look better: Lots and lots of gloss.
In spring 2010, Hitachi showed off a 3.1 inch screen that could reproduce 3D graphics without graphics, shortly after Sharp revealed a 3.4 inch one.
We're nearly six years into the first true generation of high definition video games, and still, few titles can manage to run at the "maximum" 1080p (1920x1080) resolution. Spare a thought for the games of the future, then, as this 85" Sharp TV has a 7680 x 4320 display. Madness. [Dvice]
Nintendo's foray into bringing 3D gaming to the masses without the need to wear glasses may have a new hardware ally in Hitachi. The electronics manufacturer unveiled details of its new 3D-simulating display today, a potential Nintendo 3DS hardware contender.
Did electronics manufacturer Sharp just give the world an early look at what the new Nintendo 3DS will be capable of? Because Sharp's new 3D touchscreen display for portable devices sounds precisely what the 3DS needs.