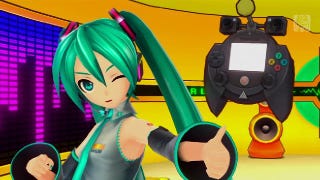 Project Diva F is an enjoyable music game starring popular virtual idol Hatsune Miku. And like most games these days, there are more than a few Easter eggs for those paying attention. Moreover, as Project Diva F is a game made by Sega, many of these Easter eggs are callbacks to other Sega-related products.
Back before the release of Phantasy Star Online 2 on the PC, one of its main selling points was that it would eventually be released on the PlayStation Vita as well. Now, nearly a year after the game's PC launch, this has finally come to pass. And while the Vita version of the game remains largely identical, it is the…
Free to play. Free. To. Play. Sounds good, but watch the fine print. With most games these days, when something is free, you tend to get what you pay for. Generally, you'll end up getting a fraction of the actual game with the rest being either unattainable or incredibly hard to get to without pulling out your credit…
Phantasy Star Online was a trail blazer of a game, bringing the MMORPG experience to home consoles for the first time. Starting on the Dreamcast, it later had releases on the Xbox, GameCube and PC. Less than a month ago, its sequel Phantasy Star Online 2 was released as a free-to-play MMORPG on PCs. It will be…
In March, Sega announced that their upcoming MMORPG, Phantasy Star Online 2 will be smart phone compatible and free to play. In a recent interview with Weekly Famitsu, Phantasy Star series producer, Satoshi Sakai, talked about Sega's somewhat ballsy decision.
Sega's reveal of Phantasy Star Online 2 at last year's Tokyo Game Show was nothing more than a logo. It's about time we got some game play footage and screenshots, isn't it?