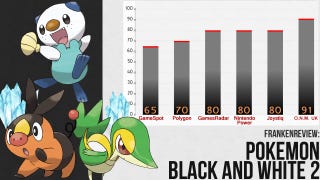 Pokémon Black 2 and Pokémon White 2 make a neatly matched set of entries into one of the most venerable (and most predictable) of game franchises. The pair are direct sequels to the Black and White of 2011. That's a good amount of time to make tweaks to a tried-and-true formula. But are the updates super effective?
It's four o'clock in the morning and I'm sitting outside my apartment chain-smoking cigarettes, mildly buzzed on cough syrup and decidedly not getting the rest I was supposed to be getting in order to alleviate the need for prescription medication in the first place. Instead I am grinding levels on my water and…
Here are a set of new commercials for Pokémon Black And White 2, the latest games in Nintendo's popular monster-catching series. Seems like Nintendo is really playing up the new: understandable, considering they have the same names as the last two games, and considering they're on a system that has been obsolete for…
The first direct sequels to Pokémon games, Pokémon Black and White 2 will be out for the DS in the U.S. this fall, Nintendo said today. They're out in Japan this weekend.
Okay, so the Pokémon games are not noted for their realism. Young people catch and train monsters. If this anime teaser is anything to go by, Pokémon: Black and White 2 is no exception.
This year, a new Pokémon game, Pokémon Black and White 2, is headed to the Nintendo DS. The latest issue of Japanese magazine CoroCoro Comic revealed new details about the game, including the first images of the game's brand new trainers.