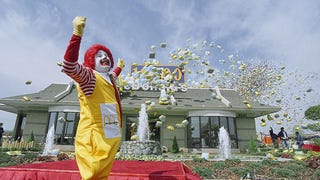 In the wake of its tremendous popularity, everyone's wondering about is how Pokémon Go intends to make money. In addition to in-app purchases, Niantic chief John Hanke has said that the game intends to create "sponsored locations," as they did with their earlier game Ingress. And a few enterprising Redditors…
Artist Nick Bertke, AKA Pogo, made this video compositing elements from Half-Life 2 into footage of his real-life neighborhood and what looks like his home. And it looks astounding.
Electronic Arts is giving away 200 billion tokens to their Pogo players this month. That works out to about 12,600 tokens to each player to use toward virtual clothes and goodies for their avatars.
You now have two more ways to get your online Scrabble fix, as EA and Hasbro have announced the release of Scrabble on Pogo.com with a Facebook app to hit the social networking site later this month. Wait, you say, I'm already enjoying Scrabble via Facebook, Kotaku! No, that's Scrabulous, an unofficial Scrabble clone…