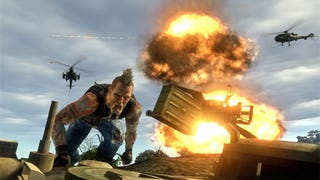 And if John Riccitiello has say in the matter Mercenaries 10 will be coming to the next-next-next gen platform of your choosing. Responding on today's earnings conference call to a question if some EA's recent releases would be "sequelable," Riccitiello unsurprisingly said "Yes." Mercenaries 2: World in Flames has…
Pandemic Studio's 2005 Mercenaries: Playground of Destruction, took the sandbox genre and placed it in a military setting with rather impressive results. Three years, various delays, and a purchase by Electronic Arts later, Pandemic gives us Mercenaries 2: World in Flames. Swapping the previous game's Korean setting…

A few days ago we showed you tons of explosions. Today it looks like the Mercenaries trailer madness is coming to a close with this official launch trailer. Remember guys the game will be out for PC, PlayStation 2, Playstation 3, and Xbox 360 on Sunday.
What's more fun than sitting on your couch and just blowing stuff up? There's always this disturbing sense of satisfaction when you level an entire structure with an RPG (in game). In these new Mercenaries 2: World in Flames videos you can see that is precisely what your going to be doing a lot of. More videos after…

In this new video we take a look at "Zero Rules" play. Luckily you can play through the entire campaign this way and everything that is available in the single player mode is available in Co-Op. Expect the game August 31st on Xbox 360, PS3, PC, and PS2
We touched on the assignment system in Mercenaries 2: World in Flames and showed you what it looks like on the current gen. However, for all of you that haven't made the switch to the Xbox 360 or PS3 fear not, Mercenaries 2 is also hitting PlayStation 2. If you want to take a look at the linked video you can make a…
This new Mercenaries 2: World in Flames video shows off a bit of how the assignment system in the game works and a how you can tackle missions using various methods, from silent and deadly to blowing lots of shit up. I tend to go for the latter personally, especially when you can bring down whole blocks of buildings.
Mercenaries 2: World in Flames is only two months or so away from release already? This is one of those titles that keeps slipping on and off of my radar, like it's hanging on and then slips, only to snag a protruding root and slowly make its way back up. Generally these end up being some of my favorite games, as I…