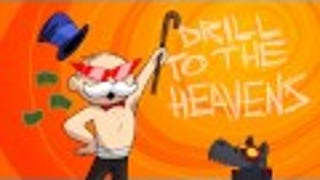 So that's why theTitan classes are called Ogre, Stryder and Atlas! Lore's here to summarize Titanfall's background story with a huge amount of references.
I have never played Xenogears (I know!) and so I never actually knew what the games were all about. Now, thanks to Lore, I do. A hamster on a cross, eh? Okay…
With hundreds of thousands of pen-and=paper adventurers adding their personal stories to the streets of D&D's Neverwinter over the years, the Lore in a Minute folks wisely stick to bullet points in prepping gamers for the free-to-play MMO.
Did you know that while developing last year's Game of the Year-winning Xcom: Enemy Unknown, the team at Firaxis played the original X-COM every week and made new hires complete the entire game? I did not know that.
The fine folks at Lore In A Minute have tackled the seminal puzzle game Myst, which you may recall actually features some remarkably convoluted backstory. I keep meaning to replay this game...
The people who make "Lore in a Minute" have been branching out from video games to provide some fun (short!) history lessons about important video game personalities. This week, it's Atari co-founder Nolan Bushnell.