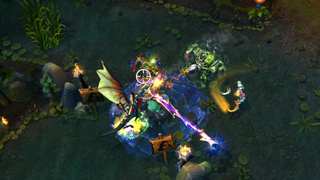 Since League of Legends migrated their servers from L.A. to Chicago, serious gamers in Hawaii have experienced bad latency, The Outline reported today. Hawaiian gamers are disadvantaged by the lag, and reportedly, there have been no internationally-competing professional Hawaiian LoL players since the switch.

Do you play League of Legends on the North America servers? Have you played since they moved to Chicago? If the game is running well—or better than it was before—let us know. If you're having any connection issues, let us know that, too! We want to get a sense of how League is running post-move. Thanks!
Late last week, Riot revealed plans to relocate the North American servers for its popular online multiplayer game League of Legends from Portland to Chicago. The plan is to centralize the location of the servers, and thereby reduce lag for the greatest number of players possible. What could be the problem, you ask?
I got a message from a Smash Bros. player recently that made a bold promise: he'd figured out how to reduce every character's lag time in the game. That's a tall order, so I was skeptical. But then other players started to think he might be on to something. And that's when things got really interesting.
If you've got any strength left to hold a controller after gorging yourself this Thanksgiving, why not hop online to give the eagerly-awaited Tekken 6 lag patch a spin?