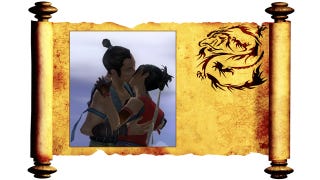 But when it comes time to seal the romantic deal in a BioWare game, do things really need to be so awkward? Because damn, things have gotten weird. As Tom Bissell puts it in his Grantland critique of the game—"In fact, could we, as gamers, maybe politely band together to convince BioWare to can the sex scenes…
We live in an era of extreme spoiler-phobia. Be it television, movies, novels, or video games, the speedy connectivity of social media has conditioned us to live in fear of ruining one another's fun. We add spoiler warnings to even the most mundane details, even when the subject of the discussion is years old.
Rafael Brown, a designer who now works at Doom creators id but once worked for Mass Effect creators BioWare, has an interesting project listed on his resume: he says he worked on Jade Empire 2.
If you're going to make the move from PC and console epic RPGs to handheld titles, testing the waters with someone else's property is pretty smart smart way to do it. That's what BioWare is doing with Sonic Chronicles: The Dark Brotherhood, according to the game's lead designer Miles Holmes. The Sonic RPG will launch…
Microsoft have just announced that the next original Xbox game to be granted a second lease of life will be BioWare's Jade Empire. For a BioWare game it's nowhere near as fondly recalled as some of their other, more laser gun-oriented titles, but it's still an excellent game, especially its take on RPG combat. It'll…