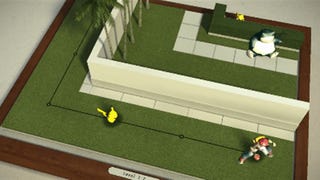 Hitman GO, the mobile, Hitman-themed strategy game, is coming to PC, PS4, and PS Vita next Tuesday. Launching as the "Definitive Edition," it'll feature full Steamworks integration on PC and cross-buy/cross-save on PS4 and Vita, with upgraded visuals and all updates from the mobile version intact.

The people that turned Hitman into a mobile turn-based strategy game this year are already back at it again. Square Enix just announced Hitman: Sniper, a new mobile game from the team that made April's Hitman: Go. It describes the game as "a massively competitive sniping game that will focus on the subtlety of…
Hitman Go will be out on April 17 for iOS. Square Enix's newest Hitman game is not like its predecessors; this one's a turn-based strategy game, and it'll cost you $5. Android version coming later.
A Hitman... turn-based strategy game? That's the tablet/smartphone game that Square Enix just announced. It's called Hitman GO and you can read more about it right here.