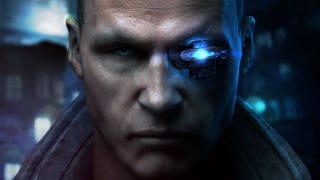 Flying Wild Hog's Hard Reset, a rather good, PC-exclusive cyberpunk FPS from 2011, is coming to Xbox One and PS4 "soon." Titled Hard Reset Redux, this new release, which'll also be on PC, will come with "an upgraded visual engine and rebalanced gameplay, along with new enemies and weaponry." Trailer's above.

Was Flying Wild Hog's cyberpunk shooter Hard Reset too hard for you? Patch 1.01 eases your pain, removing weapon cooldowns, improving gun swapping speed, tweaking the sprint system, and allowing players the mercy of mid-game difficulty changing. Pansies. [Steam Forums]
Flying Wild Hog's humanity-versus-machines shooter Hard Reset is now available for download via a PC digital deliver service near you. Get it from Steam, FilePlanet, GameFront, and many other fine game downloading services.
I've talked about how good Flying Wild Hog's cyberpunk shooter Hard Reset is. I've shown you how good it is. All that's left is for you to see for yourself when the game hits Steam on September 13. Can your PC handle it?
The Polish super-team building the cyberpunk FPS Hard Reset must think it's 1996 or something. The game is a PC exclusive, has no multiplayer, and although it was announced earlier last month, it's coming out later this year. That's how things used to get done around here.
The people who teased their PC exclusive shooter with a single screen shot last month have finally unveiled the mysterious sci-fi project they're working on. This is Hard Reset, the cyberpunk first-person shooter from people who worked on Painkiller, Bulletstorm and The Witcher 2.