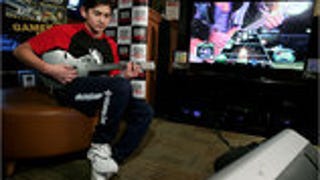 Danny Johnson, Wednesday, set a new world record in Guitar Hero III, not only toppling the previous record set last August in Minnesota, but also landing a story in the New York Times.
Slash, you can own! McFarlane Toys has announced it is releasing a Guitar Hero III: Legends of Rock Slash figurine. The vitals: The statue is 6 inches tall, has over 15 moveable parts, a removable guitar and a sculpted stand. Toy Slash is priced somewhere between US$10 and $15. Out next February. Big pic after the…
Metallica's upcoming ninth studio album Death Magnetic hits Guitar Hero III: Legends of Rock in its entirety this Friday, the same day the album goes on sale. Better still the Guitar Hero downloadable album will include two exclusive renditions of Suicide & Redemption with extended solos by James Hetfield and Kirk…
As noted last month on Roadrunnner Record's website, Activision has confirmed that English speed metal band DragonForce is debuting a new single on Guitar Hero III: Legends of Rock as part of a downloadable track pack. Heroes of Our Time, the debut single off their new album Ultra Beatdown, will come with Revolution…
Okay, NOW they can call the game Guitar Hero III: Legends of Rock. How did Activision get away with this for so long without including Joe Satriani and Steve Vai? We probably should have set the company on fire for this gross oversight, but it's too late now. In two days Satriani's "Surfing with the Alien" and Vai's…
Anthem is the guitar-heavy song from Top Gun, not to be confused with Kenny Loggins's Danger Zone. Unfortunately the free DLC won't include a heavy metal fro or aluminum parachute pants.