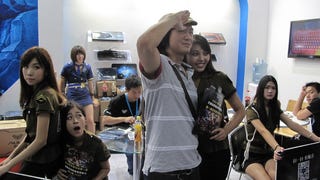 For the last 11 years, the yearly China Digital Entertainment Expo has been "entertaining" China and the world's gamers. Commonly known as China Joy, the show is usually known more for its booth companions—in fact, this year's China Joy was more about the gamers and geeks taking photos of young women.
Young girls can live out their dance fantasies in their living room with Majesco's Dance Sensation! for the Nintendo Wii. Young boys will just have to keep hiding their passion for creative movement from a world that just wouldn't understand.
Why spend your evening waiting in an queue to play Aion when you can watch an hourglass spin around in EA's new MMO, Littlest Pet Shop Online?
Girls, girls, girls. No, it's not a Vegas review, it's the target audience for EA's Wii title Boogie SuperStar, which was announced yesterday. I swung by EA's New York press event yesterday, too, where the game was on display, and I took a look at it.