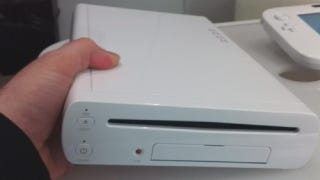 This is the Wii U console, the part of Nintendo's big new gaming machine that's been getting a lot less attention than its stunning screen-based controller. I got my hands on the console today. Take a video tour with me.
Speaking to Kotaku earlier today, Nintendo of America president Reggie Fils-Aime revealed that while the Wii U will still be compatible with Wii software, its predecessor's backward compatibility with the GameCube will not be making an appearance.
Mike got to use Power A's slightly shrinkified controllers back in January—the PS3 and Xbox models are fine, but it's the 20 percent smaller, totally rubberized Wii remote that's a surprise dynamo. And it lasts longer than before, with AA batteries replacing last year's AAA.