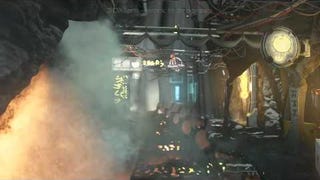 Details are basically non-existent, but Crytek has officially announced that there will be a DirectX 11 patch for Crysis 2 to take full advantage of modern PC gaming hardware. [MyCrysis.com] (Thanks, Kyle!)
Codemasters trotted out the PC version of Colin McRae: DiRT 2 today at the Windows 7 launch in New York, showing off the snazzy DirectX 11 features the game was delayed for.
Completely pointless from a consumer standpoint, we know, but then, we also know this kind of stuff is cool regardless; witness one of AMD's new DirectX 11 graphics cards running a game on six monitors.
The PC version of Colin McRae: Dirt 2 is being driven to December in order to make sure the title supports the hardware tessellation, multi-threading and Shader Model 5.0 technology coming in DirectX 11.
When Windows Vista shipped, it shipped alongside DirectX 10. DirectX 10 would only run with Vista. It wouldn't run with the faster, more stable, more popular Windows XP. This made those running games on XP unhappy. Well, fast forward a few years, and the next release of a Windows OS - Windows 7 - won't be repeating…
Do you feel that, PC gamers? That pressure? It's the future, bearing relentlessly down upon you. While many PC gamers are still without DirextX 10, thanks to its Vista-only segregation, word on the PC tech streets (in this case, Graphics Whore boulevard) is that DirectX 11 will be announced by Microsoft later this…