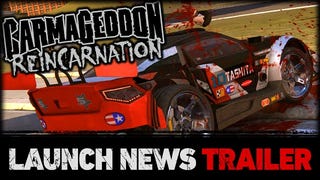 The next Carmageddon game, Carmageddon: Reincarnation, leaves Early Access and launches on Steam on April 23, almost 15 years after the series' last game. There's a launch trailer above (it's about as bloody as you'd expect), and you can head here for the announcement, which has a features list for the final release.
I could totally watch a special episode of Wacky Races with artist Ido Yehimovitz's re-imagined video game cars leading the way.
A taste of the new Carmageddon's car physics. According to Stephen Rushbrook of Stainless Games, the suspension is "entirely physics-driven—you can rip off the tires, the wheels, hub, drive shafts, wishbones independently, and what's left will still work. Ripped-off parts will spin, hinge and flex as you'd expect."
Good news, everyone: Carmageddon, the classic and highly violent crash racing series, is finally back. Its newest game, Reincarnation, is heading to Steam Early Access next year. However, not all fans are happy.
The most gloriously violent racing game ever made is making a Kickstarter-funded comeback. To thank the folks that gave their money so the vehicular genocide could continue, Stainless Games is offering the iOS re-release of the original Carmageddon for free. What are you waiting for?
Carmageddon's official site is displaying a countdown that will reach zero early the morning of June 1. The site is registered to Square-Enix, the series' owner (acquiring it with Eidos). The series' last release came in 2000; a Carmageddon 4 had been rumored in 2005 but was put on hold indefinitely.