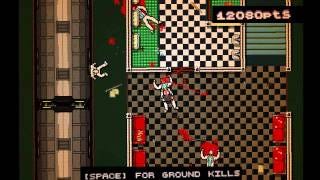 I could write lots and lots of words about the super-cool, super-violent new PC game Hotline Miami. In fact, I've already kinda done that.
Hopefully you are already hip to Hotline Miami, Cactus' unhinged, techno-drenched top-down murderfest. It's a wicked cool, incredibly fun game, and it sports one of the best soundtracks of the year. (If you're not aware of the game, you can read some of my impressions here.)
Not many games give you unique power-ups based on what super-creepo mask you're wearing. Hotline Miami does. The game is out next week, and it's super cool.