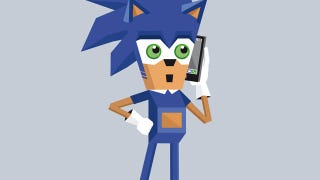 This year, Sega mascot Sonic the Hedgehog turns 20. To honour the occassion, those classy Frenchmen at Amusement magazine put together a very classy tribute.
After crying to the heavens about the lack of an English-language version of classy French gaming mag Amusement, editor Abdel Bounane was kind enough to point us towards this gallery from the latest issue. No need for translation with these!
When it's not perched too high upon its high horse, Britain's Edge magazine is a good read. How many other mags do we read? Uh...none. We would, however, read Amusement. If we could.
French gaming magazine AMUSEMENT has an art gallery inspired by upcoming Playstation 3 create and play title LittleBigPlanet in their latest issue. The magazine was kind enough to send over some images from their shoot to Kotaku to show off some of the things they're doing. It sort of looks like they're going for the…