Headsets claiming to offer "surround sound" have been on the market for a while now, but I'm yet to find one that really works as advertised. Let's see if the Sound Blaster Tactic 3D Sigma can change that.
Specs
Price: US$89.99
Platform: PC/Mac
What's in the box: Headphones, THX adapter, detachable microphone.
After a week spent with the Sigma, I'm going to have to report that no, these headphones do not change that. What they are, though, is a solid late-night sound solution for the PC gamer looking for something in the middle ground between the budget section and the top shelf.
The Basics
The Tactic 3D Sigmas are the more expensive of two new "3D" headphone sets being offered by Creative Labs. They boast 3D sound, can be plugged into regular headset and microphone ports for other uses (like on an iPod), and if you feel like a drunken laugh also have a feature that will disguise your voice. My favourite? The effect that makes you sound like you're in a witness protection program.
Using It
They're headphones. They're pretty easy to use! While not being strictly plug-and-play, as you need to first install the custom software that allows them to run in "3D", once that's done all you do is stick 'em in and you're good to go. If you want to use them as regular stereo headphones, all you need to do is plug them into the headphone jack on your computer (or other device). If, however, you want to use the "3D" sound effects, you'll need to plug the headphone and mic cables into an included THX adapter, which needs one of your computer's USB ports to run. To play games in "3D", you simply change the hardware settings from an individual title's menu to surround sound.
G/O Media may get a commission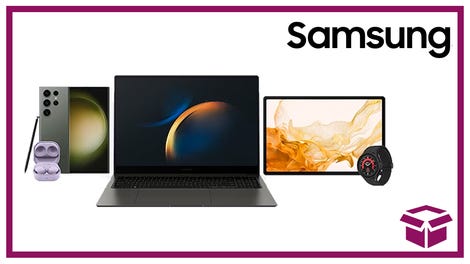 24 hour deals
Discover Samsung - Daily Deal
Attached to the soft, sexy cables (no, really) is a small control unit that lets you manage the headset's volume, mute the microphone and clip the cord to your shirt.

What We Liked
While they may not look it, the Sigmas' bow-legged design and padded "roof" make them one of the most comfortable sets of headphones I've ever used. As a man with a large head (for reference, I wear 7 3/4 caps), many headphones pinch or don't sit right, but even using these for hours, I never noticed any pain or discomfort.
Sound quality in "regular" mode — so, using them as a stereo headset or with a media player like an iPod — is also pretty good, particularly a nice heavy bass that rumbles the ear without ever feeling like it's too much.
I also liked — and this is a bit weird, I know — the cables. They're thin, like pasta, but soft, like satin sheets. They don't make any difference to the sound quality, sure, but they sure feel nice when you're plugging in and settling down for a night of gaming.
What We Didn't Like
For a $90 pair of headphones, they feel pretty "cheap", with hollow plastic and a rickety frame. As you'll glean above, in terms of both comfort and use this doesn't really affect things, but still, you'd kind of hope for something a bit sturdier when you're paying nearly a hundred bucks for some computer headphones.
We were also a little underwhelmed with the "3D" effects. Like most other attempts at bringing 5.1 sound to headphones, things get a little clustered and busy in your ears when the action starts to pick up. You can tell there's sound coming from more than two places, but it never feels like it's actually coming from where it's supposed to like an actual surround sound unit would manage. It may not have helped I have a 5.1 setup on the same PC I tested the headphones on, but then, that's a sure-fire way to see how the effect really stacks up.
The Bottom Line
If you're after a set of headphones to really nail the effect of "surround sound", these don't fit the bill. If, however, you're looking for a comfortable set of headphones that do a great job with "normal" sound, then the Tactic 3D Sigma's are definitely worth a look. Well. A listen.
The Sound Blaster Tactic 3D Sigma headphones were manufactured by Creative Labs for use with the PC/Mac. Retails for $89.99 and released this fall. A device was given to us by the manufacturer for reviewing purposes. Tested the unit's audio across several PC games, in iTunes and on an iPhone 4 .