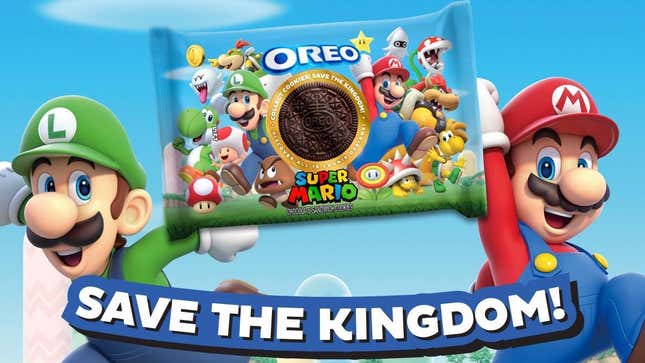 Oreo cookies' limited-edition Super Mario collaboration is now available for purchase at Walmart and other big-box retailers. The cookies' themed packaging advertises them as "collectible," which is also how mold spores would describe themselves, if they could.
The Week In Games: What's Coming Out Beyond Cyberpunk 2077: Phantom Liberty
But mold is no match for Mario. Like Oreo's previous limited collaboration with Pokémon (boxes of which resold on eBay for thousands of dollars) and Lady Gaga (fans entombed these cookies in glitter resin and sold them on Etsy for tens of dollars), the Mario Oreos are designed to appeal to a superfan's intrinsic need to consume more, and then more again. Some people even pre-ordered them last week to make sure nothing could come between them and their Nintendo cookie except a wheel of vanilla cream.

In spite of the fanfare, you'd be inclined to think that these plain-looking Oreos are just regular Oreos, but they're actually regular Oreos with Mario, Luigi, Bowser, or one of 13 other designs stamped onto them.

"These cookies look very good and also I think they will taste very good this is why I'm giving them a five-star review," wrote an early critic on the Oreo website.

"Super Mario Bros. cookies," said another five-star review on the site. "I love Oreos."

Princess Peach will not be featured on any Oreos, a press release says, because Bowser kidnapped her before they could emboss her onto the chocolate. To find her, players will need to scan a QR code on their cookies' packaging, which otherwise shows the typical cast of Super Mario grinning and running under a blue-raspberry sky.

"Stop trouble-making Bowser from taking over her castle," the press release urges. "Here's what to do: On the rim of a glass of milk, stack as many hero-embossed cookies as possible atop a Bowser cookie until he is defeated (a.k.a. the cookies fall into the milk.) Share a video of the delicious defeat on social!"

"We may even reveal a surprise as a thank you to those who successfully defeat Bowser and save the kingdom... Fans will have to wait and see!" added Oreo senior brand manager Vishnu Nair.

OK, so that's stupid. In any case, on Amazon, the $5.29 cookies are Prime eligible, but they're listed at the slightly cheaper $4.58-per-pack on the Walmart website. Though they were only released today and are, presumably, far from sold out, entrepreneurial Oreo wizards are also already selling them for six times the price on eBay. It's not fair—the price of saving the cookie kingdom should be paid in milk.