Yesterday, games studio Bartlet Jones was forced to lay off the the majority of its small staff after the publisher of their yet-unannounced game pulled funding. David Jaffe, the veteran games designer who co-heads the studio along with producer Nick Kononelos, told Kotaku that the layoffs "break my heart," but also said that "this is life in the creative warzone."

Jaffe directed 1995's Twisted Metal and 2005's God of War. He's also long been an outspoken developer who has been widely quoted in the games press, including here. In 2014, he announced his new studio, The Bartlet Jones Supernatural Detective Agency, which in 2017 put out arena shooter Drawn to Death. Critics' reviews of the game were mixed (Kotaku staff writer Heather Alexandra said it's "endearing for a time but starts to wear thin.") The studio had a contract with an unknown publisher for its next game until Monday, when that publisher said they'd pull funding. Jaffe declined to comment on what kind of game he was making.
"That was the vast majority of where we were getting our funding from," Jaffe said of the publisher. "When they pulled the plug, we were forced to do layoffs." Now, the studio only employs seven of its formerly two dozen employees. One of them, a concept artist named Nafisah Tung, told Kotaku that "There's anxiety about being such a bare-bones crew now, but I think we're all determined to work hard for whatever life throws our way."
Jaffe's plan is to assess whether there are other funding channels for the game while also playing around with a brand new game design. "Right now, Bartlet Jones is gonna be a very small team pacing around our office with a gas lamp asking if there's a game," Jaffe said. "If in a couple of weeks we decide it is, we'll get our heads back down and fight the fight. If not, we'll part as friends, raise a toast to Bartlet Jones and move on," Jaffe said, referencing the possibility of closing the studio.
G/O Media may get a commission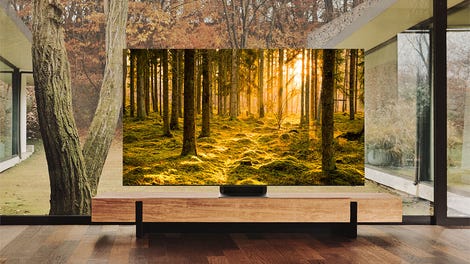 Up to 40% off
Samsung Smart TVs
Laying off so many employees left Jaffe feeling "sad and sucker punched." To him, the news says something about how difficult it is to make games that exist in the space between AAA and indie. He also feels hopeful, he said, and excited to experiment. "The last 10 years, I've been permanently focused on mechanics-based multiplayer games. That hasn't worked out too well. You can definitely see that what we'll do in the future will be an attempt to learn from that and create things that take the lessons of those less than successful endeavors in mind."