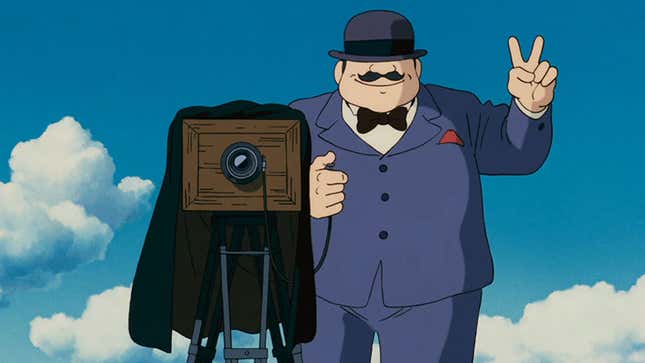 Ghibli Park, a large theme park dedicated wholly to the works of Japanese animation giants Studio Ghibli, opened late last year. And it hasn't taken long for people to start being weirdos with some of the statues found at the park, prompting calls from local authorities to please stop.

As CNN report, last week the Governor of Aichi Prefecture (where the park is located), Hideaki Ōmura, held a press conference, and discussed the subject of adults taking "lewd" photos with attractions. Seems not only have grown-ass men been taking inappropriate pics with statues of Ghibli characters, but they've been sharing them on social media, leading to reactions that are not in keeping with the strict family-first vibes Ōmura would have been expecting.
"Frankly speaking, posting photos like that on social media is very inappropriate", Ōmura said. "From adults to children, people go to Ghibli Park to enter the Ghibli world and enjoy themselves. Clearly this action disturbed many people," he added, saying that local authorities have since told park staff that "they need to firmly stop such actions once spotted and confirmed."
"For those who come to the park to do this kind of thing, I would much prefer them not to come at all. Of course we need to take harsher measures against this kind of behavior. This is basically destruction of property."
You might think this reaction is a bit much, but Japanese staff and authorities do not usually fuck around when it comes to taking photos in places you're not supposed to take photos. I've had staff at the Tokyo Game Show be stricter with camera use than security at famous museums, and I felt like the star of an Oceans movie the day I managed to snap a pic of my son playing on the plush Catbus at the Ghibli Muesum in Tokyo. They're normally super strict, so Ōmura's frustrations are perhaps partly born from the fact that he expects security to be tighter at these exhibits than they are.
Ghibli Park opened last year after numerous delays, but isn't really finished; while it's selling tickets, and there are three areas to explore (including the house from Totoro), two other spaces (including a Mononoke-themed forest) are still under construction, and aren't due to be completed for another year or two.