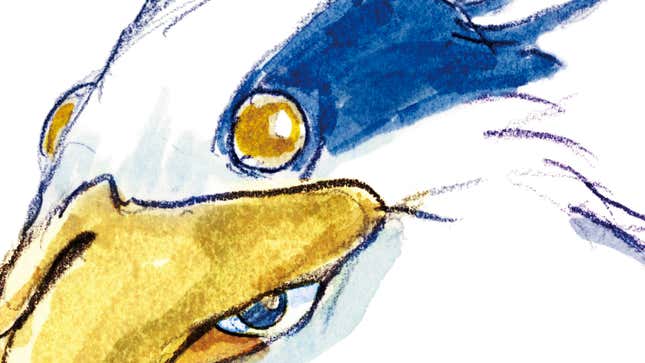 According to a recent report from Deadline, Hayao Miyazaki's final Studio Ghibli movie, How Do You Live?, has earned an impressive total of $13.2 million in its opening weekend in Japan. This accomplishment is particularly astonishing considering Studio Ghibli never released a single trailer to promote Miyazaki's final film, sharing only the title and a single poster.
After opening on July 14, How Do You Live?, which in the U.S. will be titled The Boy and the Heron, reeled in a total of $13.2 million on its opening weekend—very big box office numbers for Japan—and set a new three-day opening record for IMAX ticket sales with $1.7 million, according to Deadline. The animated feature film is not only Miyazaki's first movie in over a decade, but it will also be his last. Miyazaki's last feature film was 2013's The Wind Rises, and his last animated short film was Boro The Caterpillar.

As mentioned earlier, little was known about what actually happens in How Do You Live?, and its voice cast was also unknown prior to release. Studio Ghibli producer Toshio Suzuki revealed why the anime powerhouse decided to not release any trailers for How Do You Live? in a video interview, saying "You get tired of doing the same thing over and over. We wanted to try something new this time."
During the video interview, Suzuki cited Hollywood movie trailers' tendency to spoil story beats as a factor in why Studio Ghibli decided against releasing any marketing material for the film. Suzuki also added that fans interested in watching How Do You Live? shouldn't need to watch a trailer to be persuaded to do so, according to Anime News Network.


In case you're still curious about what Miyazaki's final film is actually about, we've finally got some details about its story and voice cast. According to Anime News Network, How Do You Live? is about a boy named Mahito Maki who, after the death of his mother in the firebombings of Tokyo during World War II, moves with his father to the countryside. Things take a dramatic turn for Mahito when his father remarries his mother's pregnant sister. It's here that Mahito meets a talking heron who promises him that he can see his mother again if he follows him into another mysterious world, one which critics are praising for its visual inventiveness and stunning animation.

How Do You Live's Japanese voice cast includes Soma Santoki as Mahito, Takuya Kimura (Takayuki Yagami from Lost Judgment), Masaki Suda (from Kamen Rider W), Jun Kunimura (Kill Bill Vol. 1), and Shohei Hino (Soma Santoki from My Happy Marriage). Kenshi Yonezu, the musician behind Chainsaw Man's theme song, Kick Back, performs How Do You Live's theme song, Chikyūgi (which translates to "Spinning Globe") according to ANN.

How Do You Live? is slated to release in North American theaters as The Boy and the Heron later this year.