SteamWorld Dig 2 is a game about exploring and finding secrets. There's a plot, too, and some fun characters, but for the most part you dig in caves and look for treasure. I could do it forever.
In SteamWorld Dig 2, out today for Nintendo Switch, you play as a robot named Dorothy on the hunt for her missing friend Rusty. You meet some cutesy characters in the desert as you go from mine to mine, digging up treasure and upgrading yourself.
The digging, feels good—thankfully, because you do a lot of it. There's a physicality to it that makes cutting through rocks an effort. Changing the landscape with your tools feels permanent and dynamic. One my favorite things to do is to wall jump up the long ditches I make, watching Dorothy's body jerk each time I press the B button on my Switch controller. Almost as good is jumping down into those caverns and hugging the wall. Dorothy's feet drag against the surface, giving you some control over the speed so you won't just die when you hit the bottom.
Though it's mostly digging, you do other things in SteamWorld Dig 2 as well. In order to equip the upgrades you buy, you have to complete puzzles to find cogs, and all of a sudden the possibilities of the game open up. Unlike the first game, these mines aren't procedurally generated, but they still offer a lot of surprises and are definitely crafted with care. As you dig down you find doorways in the mines, which lead to puzzle rooms. These puzzle aren't that tricky yet, but they do all make you feel very clever for figuring them out. Some of them have splashy payoffs. In one, I had to cause a cave in to get to the cogs I needed, running from falling rocks then climbing on top of them. In another, I had to shoot a bomb in a particular spot in order to clear an entire room. Watching all those cacti explode felt awesome.
G/O Media may get a commission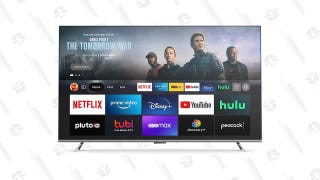 Save 46%
Fire TV 55" Omni Series 4K UHD Smart TV
The secrets don't stop there. Not only can you find artifacts in the mines to turn over for blueprints for better upgrades, but often the puzzle rooms will have additional secret rooms that have even more treasure or cogs. Because the simple actions the game is based around—digging and platforming—are so polished, the rewards for exploration didn't just feel equal to the work I put in, but also like a special treat in an already enjoyable game.
I can't wait to play more SteamWorld Dig 2. It comes out for PC tomorrow and for PS4 and Vita on the 26th, but I'm particularly happy that it's out on the Switch so I can play it basically anywhere I want. I'm sure there are a lot more secrets lurking in those mines, and I won't let my real world physical location stop me from finding them.