A little more than a week ago, Steam developer HyperReuts was at rock bottom. The studio had given out 10,000 free keys for its multiplayer arena space game Evolvation, only for scammers to snap up a chunk of them. In response, HyperReuts tried to delete the offending keys, but in the process, it accidentally zapped legit keys, too. Then came the flood of irate reviews from locked-out players.
Eurogamer reports, however, that this story had a happy ending. Well, sort of. First, HyperReuts tried to get new keys from Valve to replace the ones that'd gone out the airlock along with any goodwill it had accrued since Evolvation's release in 2017. Valve, for no adequately explained reason, refused. Eventually, Valve suggested that HyperReuts instead make its game temporarily free to play, so that players could get in and play it while the developer continued to work to resolve the situation.
"Hopes this helps you guys out and solves the issue," wrote HyperReuts in a Steam post on October 8. "I am losing big time here, but I did this so the issue is being solved. I am sorry for the inconvenience."
Thanks in part to social media, an improbable number of users almost immediately flocked to the suddenly free game. Literally overnight, it hit an all-time concurrent player record of over 170,000. The upside: that's a galaxy-sized step up from the game's previous player count, which had averaged out to between one and four over the past few months. The downside: the game's servers were not even remotely prepared to take the load.
"My server is not made for 180k people logging in at the same time, so the servers are overloaded," HyperReuts wrote on Evolvation's Steam page. Players faced long login times, if they were even able to get in at all. "And if you are logged in, you probably cannot see any spaceships since they are loaded from the database," he wrote
G/O Media may get a commission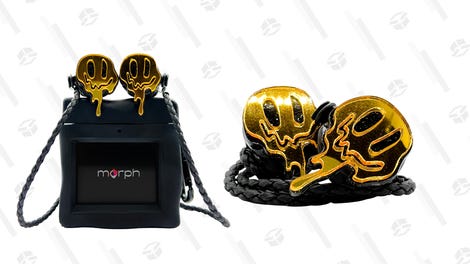 morph audio
Morph Earphones
So, you know, pros and cons.
Evolvation also doesn't have any microtransactions or alternative means of making money, which means the developers can't profit off this turn of events. Still, they're overjoyed by the response their suddenly visible game has received.
"With all the negativity I encountered and have to deal with, I really choked up and it made me feel very sad," wrote HyperReuts' Eric Ruts in a post yesterday. "However, I never expected that because of my honesty, I also got a lot of positive feedback of you guys! That really made my day and am very grateful for that. And want to give you guys my deepest and heartfelt: 'Thank you.' You guys make me believe again and encourage me to continue making games."