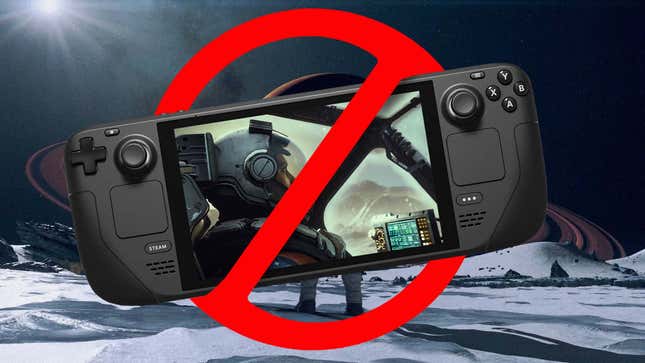 The embargo on Starfield reviews and coverage is up and the internet is flooded with videos and opinions about Bethesda's newest, soon-to-be-released RPG. And for those of you excited to play Starfield on Valve's portable Steam Deck, there's some bad news: It ain't a great fit for the tiny PC.

The Top 10 Most-Played Games On Steam Deck: August 2023 Edition
First announced years ago at E3 2018, Starfield hype has grown in recent months with each new trailer, teaser, and interview. Soon players will finally get a chance to play Bethesda's latest open-world adventure when it goes live—at least if you paid for early access—on August 31. Everybody else, including Game Pass subscribers, can play Starfield starting on September 6. Early reviews aren't uniformly positive, but the game sounds big and filled with stuff to do (though if you'll enjoy that stuff is another question). Sadly, it seems you won't want to explore this latest RPG on Valve's Steam Deck.

Some critics and writers, in early reviews of the game, have tested Starfield on the Steam Deck and are reporting disappointing (but also predictable) results. Destructoid reports long loading times, multiple crashes, and unstable framerates, with huge dips during gameplay and combat.

TouchArcade also had a lousy time playing Starfield on Steam Deck, suggesting that the only way to play the game at all right now is to set "everything to low" and turn on AMD FSR2. And even then, TouchArcade reports that the game's framerate can drop into the low 20s while exploring large cities. The outlet says Bethesda recommended not reviewing the RPG on Steam Deck. I can see why.

Starfield is probably too much for the Steam Deck
While this is bad news for folks who were planning on using the Steam Deck as their primary device for playing Starfield, let's keep in mind that this game was probably never going to run well on Valve's handheld PC. Remember, this is a game that runs at 30fps on Xbox Series X, and is pushing desktop PCs. So it's not surprising to hear that the not-super-powerful Steam Deck struggles to play it.

Bethesda's own Todd Howard seemed aware of this back in June, when he hesitated to confirm if the game would be playable on Steam Deck while talking to Kinda Funny. When asked if the game would be compatible with Steam Deck, Howard dodged and said, "We'll talk about that later down the road, yeah." It's now later, and it appears that, for now at least, Starfield on Steam Deck isn't a great experience.

Of course, a future patch could turn things around and modders may help try to squeeze the game properly onto the Steam Deck. But for now, it's not the best way to play the new RPG. Thankfully, Starfield on Xbox performs much better, even on the cheaper, smaller, and weaker Xbox Series S.

  .