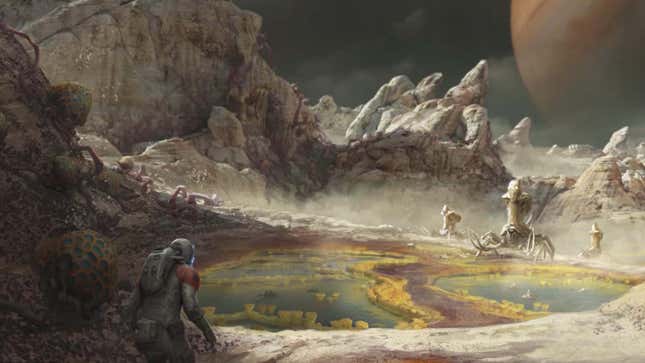 Are you broke in Starfield? Would 9 million credits showing up in your pocket in just an hour change your spacefaring life? Well, one player has found a bug that will help you get rich quick by glitching through walls.

YouTuber DPJ outlined the exploit in a video (thanks GamesRadar). To do it, start by going to the Narion system and head to the Stroud-Eklud Staryard space station. In the station, behind a stanchion you'll find a wall covered with space travel equipment. If you position yourself just right, you can walk through the wall and move around on the edge of the geometry from outside the bounds of the map. One skill that is pretty much required to make this work is the Boost Pack Training Skill, which gives you a little bit more air time as you jump from wall edge to wall edge, to ultimately reach a floating treasure chest just off the map. Inside you'll find a cool 160k credits.
The method is repeatable by transporting to another planet from the Stroud-Eklud Staryard station and waiting six in-game hours. This will reset the chest and give you another 160k credits. Altogether, it's a pretty simple exploit to pull off if you've got the skill to land in the right places on the outside of the map. If you want to see the specific route that seems most efficient, check out DPJ's video:
As Bethesda's open-world games tend to be, Starfield has been a goldmine for players discovering new exploits, especially when getting a ton of money real fast. Did you hear about the magic mud puddle that has been extremely lucrative for those trying to fill their coffers?
For more on Starfield, check out Kotaku's coverage hub.
Buy Starfield: Amazon | Best Buy | GameStop
.