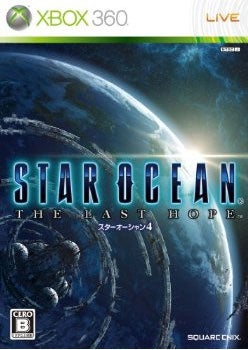 Square Enix's Star Ocean 4 helped propel the Xbox 360 to the front of the console pack in Japan, thanks to an impressive 162,000 copies sold in just one week. That's damn good.
The new role-playing game knocked off last week's champ, Mario & Luigi RPG3!!!, a Nintendo DS title whose fall was cushioned by a trio of new Idolm@ster games for the PSP. Don't ever say that Namco Bandai doesn't know how to milk. The rest of the week's new debuts, including the Japanese release of Dead Rising: Chop Til You Drop and Metroid Prime for the Wii, weren't so spectacular.
While a handful of new titles couldn't crack the top ten, PlayStation 3 games Street Fighter IV and Demon's Souls held strong, selling well enough to hang in there for one more week.
01. Star Ocean 4: The Last Hope (X360) - 162,000 / NEW
02. Mario & Luigi RPG3!!! (DS) - 62,000 / 255,000
03. Idolm@ster SP: Perfect Sun (PSP) - 46,000 / NEW
04. Idolm@ster SP: Missing Moon (PSP) - 39,000 / NEW
05. Idolm@ster SP: Wandering Star (PSP) - 35,000 / NEW
06. Shining Force Feather (DS) - 30,000 / NEW
07. Monster Hunter Portable 2nd G (PSP the Best) - (PSP) - 18,000 / 435,000
08. Sacred Blaze (PS2) - 17,000 / NEW
09. Street Fighter IV (PS3) - 17,000 / 103,000
10. Demon's Souls (PS3) - 15,000 / 78,000
11. World Soccer Winning Eleven 2009 (PSP)
12. Wii Fit (Wii)
13. World Soccer Winning Eleven 2009 (PS2)
14. Tales of the World: Radiant Mythology 2 (PSP)
15. Mobile Suit Gundam: Giren no Yabou - Axis no Kyoui V (PSP)
16. Taiko no Tatsujin Wii (Wii)
17. Final Fantasy Crystal Chronicles: Echoes of Time (DS)
18. Rhythm Tengoku Gold (DS)
19. DoDonPachi Daioujou Black Label Extra (X360)
20. Mobile Suit Gundam: Giren no Yabou - Axis no Kyoui V (PS2)
21. Dead Rising: Chop 'Til You Drop (Wii)
22. Chou Gekijouban Keroro Gunsou: Gekishin Dragon Warriors de Arimasu! (DS)
23. Wii de Asobu: Mario Tennis (Wii)
24. Wagamama Fashion Girl's Mode (DS)
25. Mario Kart Wii (Wii)
26. Wii de Asobu: Metroid Prime (Wii)
27. Pokémon Platinum (DS)
28. Tenchu 4 (PSP)
29. Inazuma Eleven (DS)
30. Penguin no Mondai: Saikyou Penguin Densetsu! (DS)