"This band is pretty much David Bowie meets Queen. The lead singer has a massive voice, the songs are dramatic anthems about sex, drugs, and outer space. It's all mixed in with killer guitar riffs and insanely catchy chorus hooks."

Sounds like an amazing band, right? The kind of band that should be famous, with platinum records and number one hits coming out of their ears? And yet while the 90's British Expat rock band Spacehog was amazing, they never quite broke through.
This is a great cosmic injustice! Spacehog, The Great Rock Sensation that never was. The band was consisted of of brothers Royston and Antony Langdon on bass and guitar, Richard Steel on lead guitar, and Jonny Cragg on drums, along with Timo Ellis on keyboard and other instruments. Royston was the front man, the bassist who also sang lead on most of the tunes.
Perhaps they were doomed by timing—it probably wasn't easy to break through as a larger-than-life glam band in the 90's. Spacehog had one bona-fide "hit" in 1995 with "In The Meantime" which most people recognize more for the opening "Ooh" riff than for the verse or melody. Frontman Royston Langdon's larger-than-life voice (and killer, hugely creative bass playing) stood out.
I first heard The Chinese Album in 2003 or so. Spacehog had broken up in 2002 after the release of the fantastic The Hoggesy in 2001. It was too late to become "a fan" really, so I just listened to their music and imagined what could have been.
G/O Media may get a commission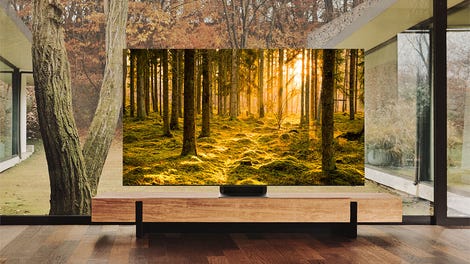 Up to 40% off
Samsung Smart TVs
The Chinese Album isn't as consistent as The Hoggesy—there are some tunes that kind of just wander along, like "Skylark." Even the opener, "One of These Days" (co-written by Talking Heads' David Byrne and superstar producer Brian Eno, among others) is a little bit of a strange way to start an album.
But immediately after that comes the best three-song run of Spacehog's short album-making career. The following three songs demonstrate why even though I never even followed them while they were around, Spacehog is one of my favorite bands of all time. Give a listen.
---
"Goodbye Violet Race"
Things start off at substantially more epic level than "In the Meantime." Langdon's voice is right up in your face, layered and resplendent, and the band drops it right on the chorus in a way that you only do when you're thinking "Man, we have got a good chorus on this tune." Some great vocal harmonies in there, as well, and I love the guitar hook.
The tune finishes and does this quick weird sonic reverse flip into…
---
"Lucy's Shoe"
The downtempo Beatles-inspired "Lucy's Shoe" takes a second to get going, and it's not quite clear what's going on in the story… sort of an Alice in Wonderland kinda thing, if you ask me. But what a singable chorus, and the orchestral chaos that sneaks in midway through is killer. Love that coda, as well. Langdon almost sings in Adam Sandler-voice.
And so then we kick it in the ass on home with…
---
"Mungo City"
When I was first learning drums, "Mungo City" was my jam. It's got a swing to it similar to Violet Race but slower, with some cool, creative drum parts happening underneath the verses. And what a chorus! I'm not sure where Mungo City is, but boy do I want to sing along about it. I don't even care that one of the lyrics is "Keeps a watchful eye on you and I." (Thankfully, it later is changed to "Keeps a watchful eye on you tonight.")
Killer song.
---
The rest of the album is great, though The Hoggesy has a more consistently high-octane songs than The Chinese Album. But if you're looking for a rock fix, you could certainly do worse than to track down those two albums. If you do, you just might fall in reverse-love with Spacehog, the great glam rock band that never quite broke through.
And because I believe anyone who writes about Spacehog is obligated to mention this: Royston Langdon did wind up marrying Liv Tyler, so I guess everything could have turned out worse.
Update: Amazingly enough, it seems the band has gotten together in a low-key fashion and recorded another album, titled As It Is On Earth, which they completed last September. Who knows? Maybe this will finally be their moment to break through.