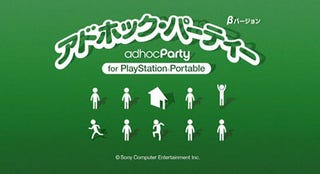 A recently filed trademark from Sony may be good news for PSP and PlayStation 3 owners in the West, as better wireless multiplayer support on the PlayStation Portable may be in our future.
Sony Computer Entertainment filed for the trademark "adhocParty" with the U.S. Patent and Trademark Office this week, the name of the service already beta testing in Japan. adhocParty allows supported PSP games that feature ad hoc wireless gaming—meaning between PSPs—to use the PlayStation 3's built in wi-fi capabilities as a multiplayer server.
adhocParty has been in beta testing since it launched in Japan last November, supporting hundreds of PSP games, but Sony Computer Entertainment America hasn't announced support for the service yet. When we spoke to Gran Turismo creator Kazunori Yamauchi at E3, SCEA reps said a localized version was "in the works," but offered no concrete details.
Given Sony's increased push on the PSP, with the PSPgo launching in a few months, the introduction of adhocParty stateside would make sense. Especially with marquee PSP titles like Gran Turismo and Final Fantasy Dissidia supporting the software.
adhocParty [USPTO]