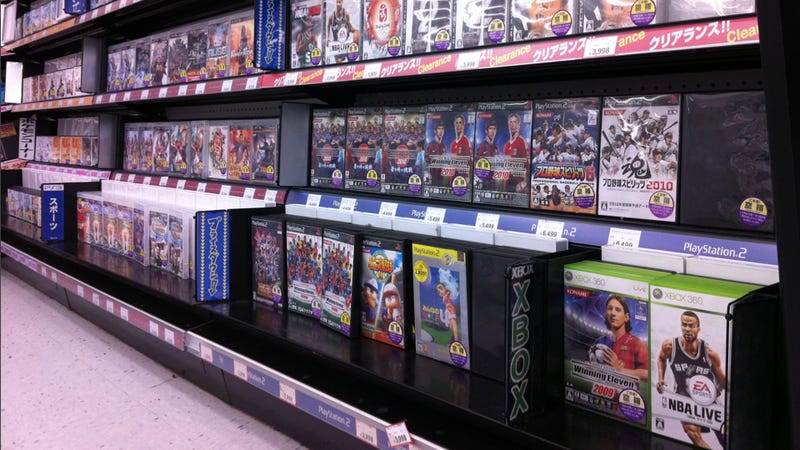 JUMP OUT | OSAKA, JAPAN: Xbox 360 shelf space is shrunk at this Osaka retailer. (Photo by Brian Ashcraft)
---
The Art Of Mortal Kombat For a game that's always been darker and grittier than its rival Street Fighter, the new Mortal Kombat has a surprising amount of...beauty to it.
---
One Young Woman, Seven PSPs, Total Insanity Sawako Hata is a member of idol group SKE48, the Nagoya-based spin-off of idol juggernaut AKB48. Previously, SKE48 members were roped in to promote Kinect in Japan. If Sony is looking for someone to promote the PSP, it should ring Hata. She's got a bag load of them.
---
When The Girls Are Mean, The Customers Are Happy Japan is famous for its service. Waiters and waitress are attentive and prompt, and they don't even expect a tip! It's very easy to get accustomed to. But sometimes good service gets old. Sometimes otaku just want to be treated like crap.
---
Say Goodbye To The DS LiteIf this image showing an email circulated amongst GameStop stores is legit, then the humble Nintendo DS Lite may now be a thing of the past.
---
Don't Worry About Wii 2 Dick Jokes This is quite silly, but somebody asked me, "Wouldn't Wii 2 be 'Weenie' in Japanese?" Well, not quite.
---
This weekend? Gonna pig out on those Cadbury Eggs. I love those. Leave 'em in the fridge, mmmmm. Good eatin'. –Brian Ashcraft
---
We like tips!
Got tips for our editors? Want to show the world your latest creation? Ready to anonymously share an unannounced game? Email us at tips@kotaku.com. Or leave us an anonymous voicemail at (612) 568-2581.
Lost in our new layout?
Click here for the Speak Up or Tips forums. Want a more "blog-like" look? Click the button up top next to "Top Stories."
Get more Kotaku!
Want even more Kotaku? Want to know which of your friends read us? "Like" us on Facebook and follow us on Twitter.