When you think Square-Enix's Japan studios, do you think violent shooter with people wearing over-sized rabbit heads? Gun Loco, a 2011 disc-based Xbox 360 exclusive fits that bill. The game's website launches on Wednesday, so this might be a Gamescom thing.
The oddest aspect of the pre-release describing the game is that the characters are based on action figures made by designer Kenny Wong. The figures were made first, fully pose-able, and then scanned in for the game.
Well, I guess the other odd thing is that I'm told that this game is being developed by Square-Enix Japan, not, as I had guessed after looking at the shots, by an American or European studios. Nope. This is Japanese a Square Enix rep told me.
What do we know about how this plays? Time to quote the press release:
"At the farthest reaches of the solar system, a collection of the craziest criminals in the universe are incarcerated on a remote prison planet with no walls and forgotten by society. In this long-abandoned world, the only rule is anarchy, as each faction fights in a bloodthirsty race for survival, power and freedom. Through several seven climate zones and numerous stylized maps, players must fight through the ruins of the world's previous civilizations, taking on each region's inmates in a frantic and frenetic struggle to survive.
G/O Media may get a commission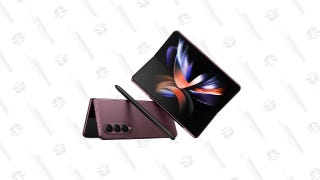 Save Up to $300
Galaxy Z Fold4
"Featuring third-person, sprint-action shooter gameplay, players can assume the roles of unique and memorable characters in a game that redefines the run-and-gun shooter. While pursuing enemies and being chased by their opponents, players must make use of the sprint-action play by running, jumping, ducking and vaulting, using the environments to their advantage. With a powerful arsenal of weapons at their disposal, each character comes complete with their own kill move, coupled with a mocking take-down taunt to ridicule their victims. The frenzied and furious comic style gameplay comes into its own with full 12-player online multiplayer matches across the planet, with a range of game modes and multiplayer arenas."