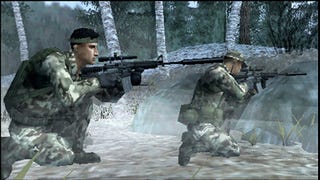 The PSP gets a third helping of multiplayer tactical gaming this winter in SOCOM U.S. Navy SEALs: Fireteam Bravo 3.
Fireteam Bravo's third mission on the PSP will see players embark on a mission to capture and interrogate former KGB agent Alexander Gozorov, believed to be in possession of information regarding a planned attack using weapons of mass destruction to massively destruct something or another. So it's another light-hearted romp through the world's more shootable locations.
It wouldn't be a SOCOM game without multiplayer, and this time around players can pick and choose which missions they'd like to tackle together, with online leaderboards and voice chat allowing players to brag both visually and audibly about how much better they are than you.
SOCOM U.S. Navy SEALs: Fireteam Bravo 3 is due out towards the end of this year, adding another game to the PSP's biggest software year ever.