In its latest attempt to replace all foods with processed potato product, Pringles takes on Thanksgiving dinner with eight different flavors—turkey, stuffing, mashed potatoes, green bean casserole, pumpkin pie, cranberry sauce, macaroni and cheese and creamed corn. We'd say grace first, but no.
Pringles Thanksgiving Dinner is an ambitious attack on one of America's most beloved holidays. Don't look for the box set on store shelves. This is an extremely limited pilot test. Even so, Pringles created a retro-style commercial, so you can tell the company is pretty excited.
As one of the targets selected for the test, Snacktaku received a TV dinner style box containing three chips of each flavor. That's 24 chips, or less than two recommended servings of normal Pringles. If the concept goes wide next year, I'm going to assume the chips will come in proper tennis ball containers.
So, how'd Pringles do? Check out the video at the top of the article for a festive Thanksgiving taste test, complete with fall-themed plush hedgehog. Otherwise, here's a quick rundown of the eight flavors:
Turkey: These taste like chips dusted with the turkey version of the dust Nabisco puts on its magical Chicken in a Biskit crackers.

Stuffing: Like eating some Pringles and huffing the stuff at the bottom of a bag of Stove Top. In other words, awesome.

Mashed Potato: I was expecting plain Pringles. I got Pringles that tasted like fresh potatoes, which was very odd. I like to imagine Pringles food scientists in a meeting discussing this flavor. "So, what do potatoes taste like?" one asks. One gets on Wikipedia. Another calls a friend who works in a grocery store. A third just sits and sobs quietly to themself.

Creamed Corn: Oh god. It's cloying sweetness with a corn aftertaste. I was not ready.

Macaroni and Cheese: Hey kids, it's a cheese Pringle. The food scientists were too busy having their minds blown by what real potatoes taste like.

Green Bean Casserole: I'm not tasting green beans, mushroom soup or crispy onion straws. What am I tasting?

Cranberry Sauce: Sounds like it would be the worst, actually nice. Mildly sweet with that signature cranberry tang.

Pumpkin Pie: More than just pumpkin spice Pringles, these taste like pumpkin pie with whipped cream on top, which is how I like it.

G/O Media may get a commission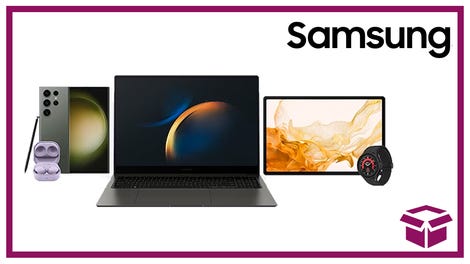 24 hour deals
Discover Samsung - Daily Deal
No matter what diabolical machinations the Pringles people put in motion, they will never usurp Thanksgiving. From violent family squabbles in a room filled with fire and knives, to finding unidentifiable mounds in Tupperware containers in the back of the fridge months later, Thanksgiving is about the memories. Horrible, horrible memories. Until Pringles figures out how to put those on a chip, our holiday is safe.
Happy Thanksgiving!