When weighing the merits of fighters in the new Super Smash Bros., a crucial factor players consider is their unique "recovery" abilities. These are the special moves each character has to help them make it back to a stage after being knocked off. One player has come up with a clever way to experiment with them.
Using Smash's new level editor on the Wii U, a player who posts YouTube videos under the incredibly appropriate handle "Smash Highlights" created a stage with a series of small moving platforms stacked on top of one another, then used each character's vertical recovery moves to see how high each of them could reach.
It's probably not the most scientifically...precise method possible. But the trial-by-level-editor is cool to see because it speaks to each character's physical presence in the Smash world in a handy way. Also, the video is a lot of fun to watch, so there's that too.
The experiment begins with the "heaviest" characters, by which I mean the ones who ascend the shortest possible distance when exercising their recovery modes. Since the main way to defeat opponents in Smash is to knock opponents off of a stage and to their death, it's not hard to appreciate the importance of having a solid reach for recovery moves. But what's interesting about seeing them in isolation is that recovery distance clearly isn't the only factor that makes a particular Smash character popular. Little Mac, for instance, has the weakest recovery (distance-wise) in the video: clearing only eight platforms. But he's still an enormously popular character—even controversially so at times.
After Little Mac comes two other vertically challenged characters: Ganondorf and Dr. Mario, who both clear nine platforms. Peach, Donkey Kong, and Link all clear 10. Toon Link beats his more serious-looking counterpart by two platforms with 12, along with Samus, Game and Watch, Marth, Robin, Charizard, Captain Falcon, and Lucina.
G/O Media may get a commission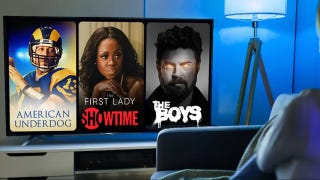 UNDER $1
99¢ Prime Video Channels
The ranking goes on from there, with the majority of characters clocking in somewhere between 11 and 17 platforms. Pit and Dark Pit make it to 18, while King Dedede, R.O.B., and Olimar fill out the top of the list. And then there's one more, who seems to be operating at a higher level than any of the other fighters. Like, a literal higher level.
Ugh. Just look at the guy, with the little smile on his face. You know he's got something big in the works.
God, seriously Villager? Is this why you can be such a giant troll sometimes—because you're so far above the rest of us that you're seeing something the rest of us aren't?
Not exactly. This being a Smash game, other members of its ever-vibrant online community leapt at the opportunity to call the results of the experiment into question once the video's creator posted it on Reddit.
For reference purposes, here are the original rankings the video came up with, as posted in the comments:
I used the stage builder to [measure] the height of every characters recovery. Here are my results (Worst to best) :

8:

Little mac

9:

Ganondorf

Dr Mario

10:

Peach

Donkey Kong

Link

11:

Bowser

Yoshi

Wario

Ike

Jigglypuff

Wii fit trainer

12:

Mario

Mr Game and watch

Toon link

Samus

Marth

Robin

Charizard

Captain Falcon

Lucina

13:

Luigi

Diddy Kong

Zero suit samus

Mega Man

14:

Bowser Jr

Zelda

Palutena

Duck hunt duo

Kirby

Fox

Ness

15:

Shiek

Lucario

16:

Falco

Pikachu

Shulk

Pac-man

Sonic

17:

Rosalina

Metaknight

Greninja

18:

Pit

Dark Pit

20:

King Dedede

22:

R.O.B

Olimar

27:

Villager
Many commenters pointed out that the Villager only goes so much higher than the competition because the player didn't use other characters to the best of their abilities. One player quickly noted, for instance, that R.O.B. can soar higher with some extra juice: "If you start his recovery move, let go of up, and start tapping B instead holding it, his recovery will go WAY higher!" Others highlighted Lucario, whose recovery is augmented when the character has received damage (and that happens pretty often in Smash games).
The "findings" of the video aren't airtight, in other words. But they're not the only thing at play here. Pretty much anything Smash-related that draws the attention of the game's massive online community is immediately subject to an ongoing critique and healthy debate that's as fascinating as it is undeniably charming. This is particularly important for a game like Smash since Nintendo doesn't always do a great job explaining parts of the game to its audience. So like almost every conceivable part of Super Smash Bros., the true value of each character's recovery moves will continue to be refined and reevaluated as players learn more about them amidst the game's ongoing evolution.
via Reddit
To contact the author of this post, write to yannick.lejacq@kotaku.com or find him on Twitter at @YannickLeJacq.