On September 7, Sony is expected to announce two new models of the PlayStation 4. They should only bother announcing one, because the Slim looks like it's already well and truly out there.
Having apparently turned up on an auction site over the weekend, British YouTuber ZRZ has now seemingly got his hands on an entire brand new retail box. We can't of course confirm that it's the real deal, but this would be one hell of a hoax were it not, especially since he boots it up on his TV and interacts with the controller.

UPDATE: The video is no longer available.
The video of the console itself doesn't show much that's new, since we've already seen what it reportedly looks like. But it does give us a closer/better look than the photos shown at auction, and from more angles than those provided by Eurogamer's story on that auction's winner.
One thing that is new, and which we haven't seen mentioned to date, is this neat little feature: the new console also has a new DualShock 4 controller, which makes a small strip of the lightbar visible from the top of the controller, meaning you won't have to poke your head around to see which colour you are in the middle of a FIFA night.

G/O Media may get a commission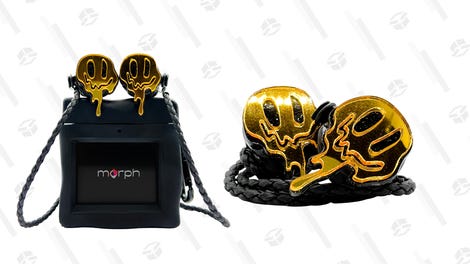 morph audio
Morph Earphones
On September 7, Sony will hold an event called the PlayStation Meeting in New York City, where the company will unveil their more powerful PS4, code-named Neo, which Kotaku broke news of earlier this year. A good guess would be that they plan to announce the PS4 Slim then as well, and that it will be available very soon.
We've reached out to Sony for comment.