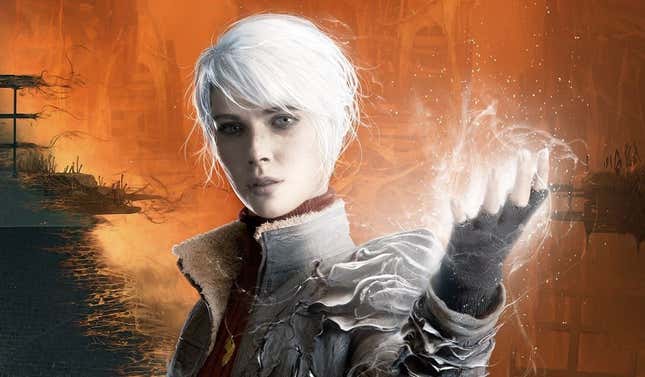 If you're someone who likes to play games buffet-style via Microsoft's video game-flavored answer to Netflix, you've got a lot to look forward to: a smart TV app, the ability to play next-gen games on Xbox One, the dawning of an era in which, for better or worse, this is the only way anybody plays games. But that's all still a bit of a way out. For now, some new games.

Thank You, PS Plus, For Making My Backlog Even Bigger
This month's Xbox Game Pass lineup won't set the world on fire, but it does include The Medium, a timed Xbox Series X/S console exclusive that wouldn't have been possible on Game Pass even a couple months ago, prior to a server-side upgrade that brought the service up to next-gen standards.
Here's everything coming to Xbox Game Pass in the next few weeks:
July 8
Dragon Quest Builders 2 (Cloud)
Tropico 6 (Cloud, Console, and PC)
UFC 4 (Console)
July 15
Bloodroots (Cloud, Console, and PC)
Farming Simulator 19 (Cloud, Console, and PC)
The Medium (Cloud)
But when Microsoft giveth, it also generally taketh away, and so a small handful of games will be departing for less-green pastures. On the upside, two of them are older EA UFC games, which really aren't that good anyway. But Downwell, a positively incredible side-scrolling roguelike about falling down a well, is also leaving, which is a bummer.
Here's the full list of games that will be removed from Game Pass this month:
July 14
EA Sports UFC (Console)
EA Sports UFC 2 (Console)
July 15
Endless Space 2 (PC)
Downwell (PC)
CrossCode (Cloud, Console, and PC)
Xbox Game Pass, in case you've made it this far into a post about Xbox Game Pass and still don't know what it is, is Microsoft's games-on-demand service. By default, it costs $10 per month, but a $15 "Ultimate" tier comes with additional perks like an Xbox Live Gold subscription and access to the EA Play library. Soon, though, all pricing tiers will lack Downwell—a tragedy.