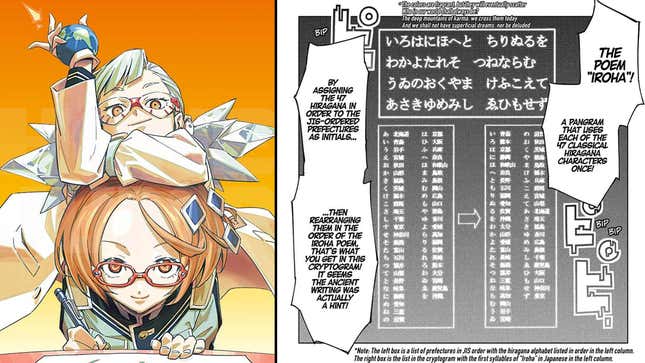 Anime and manga enjoyers often come across the odd joke or pun in their favorite series that lands in Japanese but doesn't translate well into English. While English translators do their damnedest to provide context behind either cultural or phonetic puns in editor's notes (typically within a manga panel's margins or alongside an anime's subtitles), one Viz Media translator is resigning from their project after revealing a Shonen Jump series' latest chapter was basically impossible to translate.

Top Five Anime Couples Who Never Got Together
The "lost in translation" manga series in question is Cipher Academy, a mystery series written by Monogatari author Nisio Isin and illustrated by Yūji Iwasaki. The series follows Iroha Irohazaka, a teenager attending the prestigious, titular high school. As the name suggests, Cipher Academy's "battles" revolve around a bunch of tricky puzzle games between Irohazaka and his classmates.

In chapter 10, "Yesterday's War Is War Today Too," Viz Media translator Kumar Sivasubramanian had the unenviable task of translating a lipogram-based cipher battle between Irohazaka and supporting character Tayu Yugata. A lipogram is a type of word association game in which participants must avoid using a certain combination of syllables or letters. Irohazaka and Yugata's lipogram battle had them ask each other about famous manga series like Demon Slayer, Slam Dunk, One Piece, and Dragon Ball Z without using a bunch of "forbidden" consonants and vowel combinations.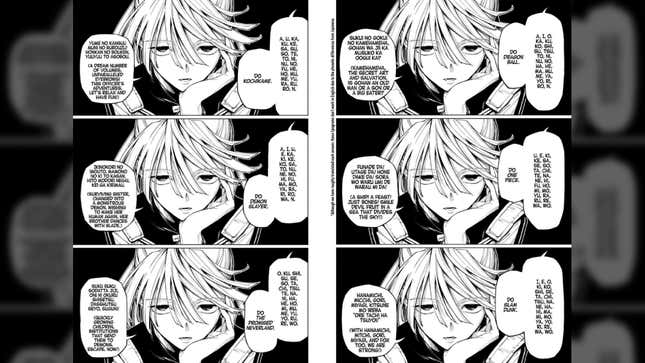 The key issue with translating Cipher Academy's lipogram battle is that the original Japanese syllables wouldn't match syllables in the English language. Instead of jerry-rigging a rough English language equivalent to Cipher Academy's lipogram, Sivasubramanian chose to print a transliteration of the Japanese lipograms.

"Although we have roughly translated each answer, these lipograms didn't work in English due to the phonetic differences from Japanese," Viz Media wrote in Cipher Academy's editor's notes.
While Sivasubramanian's transliteration of the lipogram was a herculean feat, it will also mark his last major contribution to Cipher Academy's English translation. On Sunday, Sivasubramanian announced on his Twitter account that he will no longer translate the series and will be replaced by a new translator.

Speaking with Kotaku, Sivasubramanian said he's no stranger to lipogram puzzles. In fact, he owns a copy of French author Georges Perec's "A Void," which Sivasubramanian notes is a 300-page novel that's been translated into English four times without containing the letter "E."

"To translate [A Void] is a work of genius, a monumental effort, and an artistic achievement," Sivasubramanian said.

In his 20+ years as a professional translator, Sivasubramanian never felt the need to quit a series until his first Shonen Jump job as the English translator for Mission: Yozakura Family, which he quit in 2022. Being based in Australia, he explained how he wouldn't receive the raw pages until Saturday, which cut into his family time. "So after about a year, I really felt I needed my weekends back," he said.

Being the English translator for Cipher Academy differed from his work on Mission: Yozakura Family because Sivasubramanian was allowed to preview drafts of chapters weeks in advance. Cipher Academy's drafts were just white pages with boxes drawn to indicate rough panel layouts and dialog, which let him get a head start on translating. But there was no guarantee his translations would still fit the eventual final pages.

"So I saw what was coming up in Chapters 10 and 11 before the final version came in for me to translate, and that's when I decided I had to step down," Sivasubramanian said. "I've heard after your first divorce, the next one is easier. I don't know if that's true but I was a little bit more...prepared (?) to quit Cipher Academy."

Sivasubramanian had initially agreed to translate 50 chapters of Cipher Academy, but once he saw the drafts for chapters 10 and 11, Sivasubramanian asked his editor if he could quit around chapter 30 instead.

"He understood completely, and—my hero—found a replacement translator even earlier," Sivasubramanian said.

Before dropping Cipher Academy, Sivasubramanian told Kotaku he offered Viz Media two conditions to continue being the series' English translator: a "much higher" page rate, and working a "book" schedule instead of a weekly schedule. For context, a book schedule would've had Sivasubramanian translate one volume (containing 8-10 chapters or 160-200 pages) every three to six months.

"I am not a genius like the people who translated Perec: Given the time and financial leeway to spend time on it, I might be able to tackle those puzzles in some form beyond, 'Well, this is based on Japanese linguistics, grammar, and syntax, so we can't translate it,'" Sivasubramanian said. "The higher-ups at Viz were not willing to do that, so that's when I begged to be let out early."

If Sivasubramanian's recent retweets of text-intensive "raw translations" for Cipher Academy are anything to go off of, the next English translator has a tough road ahead of them, especially if Isin crafts yet another word association mystery game for his academy of brainiacs (and real-world translators) to solve.
Update 2/21/2023 4:20 p.m. ET: This article has been updated to include quotes from Viz Media translator Kumar Sivasubramanian.